Matt and I have both been to New Orleans, but never together and never for pleasure. When I found out that my dear friend and fellow photographer, Joshua Smith, had recently purchased a guest house in the Marigny District of the city, I just knew that we had to stop there.
Joshua's guest house, Blue 60 Guest House, is a wonderfully peaceful and comfortable place to stay while visiting New Orleans. It is just a couple of streets from Frenchmen Street and the French Quarter. After staying in couple of crappy hotels on our way out of Mexico, it was nice to get to Joshua's place.
Once we were there, we realized that New Orleans offers so much, that our two days were not going to do any justice to such a magnificent city. But we decided to take it slow (it was hot and incredibly humid) and savor the city rather than run around trying to see and do everything.
The first thing that I love about the city is the food. It is my favorite food city in the US. Our first night, we stayed close to the guest house and kept to Frenchmen Street. The offerings were overwhelming, so we settled for getting hot dogs at Dat Dog. By settled, I mean, we ate the most delicious hot dogs we have ever eaten. I had a dog made of duck topped with yellow mustard, bacon, and blackberry sauce. It curled my toes because it was so tasty. Matt's was a sausage of alligator with cajun mustard. A couple of local beers and some fries and we were happy travelers.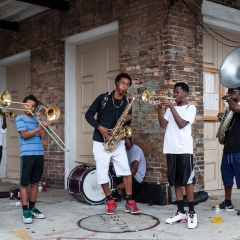 The next day we chose to just wander the French Quarter. It was another hot and humid day, the level was set to swampy. However, wandering the French Quarter is one of the best things you can do in the city. One of the other things that I love about New Orleans is the music. It is everywhere. It's like oxygen. It's everywhere and once in New Orleans, you cannot imagine life in the city without it. The city offers Impromptu performances on the street by musicians from all walks of life and performances in bars by professionals and amateurs. Their performances are almost always free, but its always nice to drop a few coins in their hat or bucket to thank them for the joy that they bring.
We did a walking cocktail tour of the French Quarter on Saturday night. Another of the things that we love about the city, is that New Orleans has some fantastic cocktail bars. The city is famous for the hurricane and the sazerac, both of which we love. We chose to do the tour through Gray Line Tours and we all met at their main offices up on the wharf near Cafe du Monde.
The tour stopped at Antoine's – home of the famous sazerac. We then stopped at The Old Absinthe House in Pirate Alley. This bar is known for absinthe, which I enjoy, but Matt does not. Rumor is that they never stopped making or selling the stuff, despite it being illegal in the United States for many years. Our third stop was the Court of Two Sisters where the famous, but now deceased, bartender Flo Woodard created the Bayou Bash. I am not sure if she meant the word "bash" to mean party or bashed on the head. It was delicious and dangerous.
The last and final stop was at Tujague's for grasshoppers. This one I did not like. It tasted like something that old ladies would drink. I did love the bar though. It has a fun history involving the bar itself, which is one of the longest bars made of local cypress. Back when the bar opened in 1856, the bar had a trough running along the bottom of it where men who were standing at the bar could relieve themselves without leaving the bar. When woman started going to the bar, they insisted that the disgusting latrine be removed. Their menu is like a history book of cocktails, grasshoppers, milk brandy punch, sazeracs, etc. It's a gem just off of Jackson Square and worth a visit for a cocktail or three. It helps that the staff are super friendly.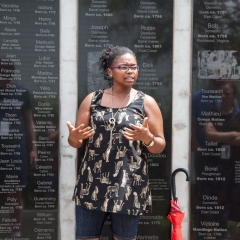 On our last day in New Orleans, Matt and I drove out to visit Whitney Plantation in Wallace, Louisiana. We wanted to do a plantation tour, but I was not interested in getting a version of history that glorifies a time when slaves were owned by plantation owners. Whitney Plantation offers the exact opposite of that. John Cummings, a lawyer from New Orleans, created a place that seeks to be a place where you can go and learn about the slavery at southern plantations. It is the only plantation that focuses on slavery in Louisiana. You can read the history of the plantation here. It was a somber visit to a place that is so very quiet, with the exception of the soft breezes blowing through the weeping willows, you swear that you can hear the voices of those who lived there, worked there, and died there under the crushing institution of slavery. It is worth a visit.
At the recommendation of a couple of friends, Matt and I dined at Cochon Butcher in the Warehouse District. We took Uber over (it is about two miles from the guest house). The food is outstanding. Cochon Butcher is a more relaxed and less expensive restaurant next door to the fancier Cochon. We are on a budget, so we opted for Butcher and we were not disappointed. Everything was delicious and filling. We walked back through the French Quarter to Cafe du Monde, because no visit to New Orleans is complete without a stop for a beignet and coffee from Cafe du Monde.
The next day, we departed early as we had a ten-hour drive to my sister's house near Tampa, Florida. New Orleans is a delicious treat and we will be back. Maybe next time we will go in the winter when it is not sweltering.
-Neeley (travelling 15-18 August, 2015)