It was great fun visiting family and friends in London. Our next stop was Brussels and Bruges. Neeley had been wanting to visiting Bruges for many years. While we were planning our visit, a train strike in Brussels was announced. Luckily, we were able to re-arrange our hotel bookings on Expedia so that we could have one day in Brussels and one in Bruges. It wasn't what we had originally planned, but we learned long ago that we need to be flexible while traveling even in Europe.
We traveled to Brussels on the Eurostar from London. The train is a great way to travel in Europe. Our hotel was not too far from the train station. So we checked in, grabbed a kebab for dinner and crawled into bed.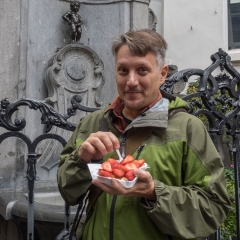 We got up early the next morning to start our day in Brussels. It is a small city with a lot to offer, so we wanted to make the most of our only day. We toured La Grand Place, ate waffles, met some lovely people from Santa Clara, California, ate fries, saw the Manneken Pis statue, saw the Manneken Pis statue's costumes at the Museum of the City of Brussels, toured the Magritte Museum, and stopped in a bar from the 1600s to sample some of the famous Belgian beer. Brussels was an interesting and beautiful city. One day wasn't really enough.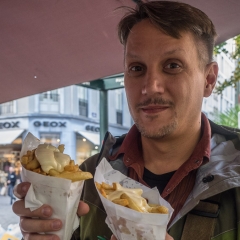 Bruges was more "old-world" feeling, and our one day there was also not enough. I bought some fries shortly after we arrived in town. We took a great tour of the De Halve Maan brewery, the only privately owned brewery left in Bruges. It, of course, ended in drinking beer. Followed by getting more fries and more walking. We visited the Madonna of Bruges, a statue by Michaelangelo in the Church of our Lady. This Madonna is quite different than other sculptures of her by Michaelangelo as she looks quite soft and life-like as she smiles down on her infant. The church itself is undergoing major renovations, but it was worth seeing this magnificent sculpture.
I managed to eat Belgian fries at least every day during our three and half days in the country. We sorely miss them as we we continued travelling. Belgium makes the best fries.
We would have stayed a bit longer, but were meeting up with family in Germany. Belgium is on our list of places to go back to when we get a chance.
-Matt (travelling 5-7 Oct 2015)