When Matt and I got married, we chose to set up a honeymoon fund rather than a traditional gift registry. The fund was divided into excursions that we wanted to take on our trip around the world. One of those was a dream stay at Goldeneye Resort in Oracabessa, Jamaica. The resort is on the grounds of Ian Fleming's house on Oracabessa Bay. Chris Blackwell, founder of Island Records (Bob Marley, U2, etc) purchased the property and turned it into a beautiful resort. We decided to book a visit to Jamaica in time to celebrate Matt's birthday. Being fans of James Bond, we were excited to see what GoldenEye had to offer. After a stay in Florida to visit family and downsize a bit, we flew to Jamaica.
GoldenEye is the kind of place that you have to know where it is, otherwise you would never find it. They do not have any advertisement outside at their address, just a wrought iron gate in the trees with a little white sign on it that says "Private". We had to call them to get directions for our driver.
When we arrived on the lush, tree-filled property, we were met by their concierge, Clayton, as well as several of the guests who we found out were regulars. Staff grabbed our bags while Clayton walked us to our cottage on the lagoon. As we descended down the steps, we passed the restaurant and the water sports area where they offered free kayaks, paddle boards, snorkel gear, and glass-bottomed boat rides. We crossed a bridge over the entrance of the lagoon and made our way down the path between two and three story houses that faced the sea.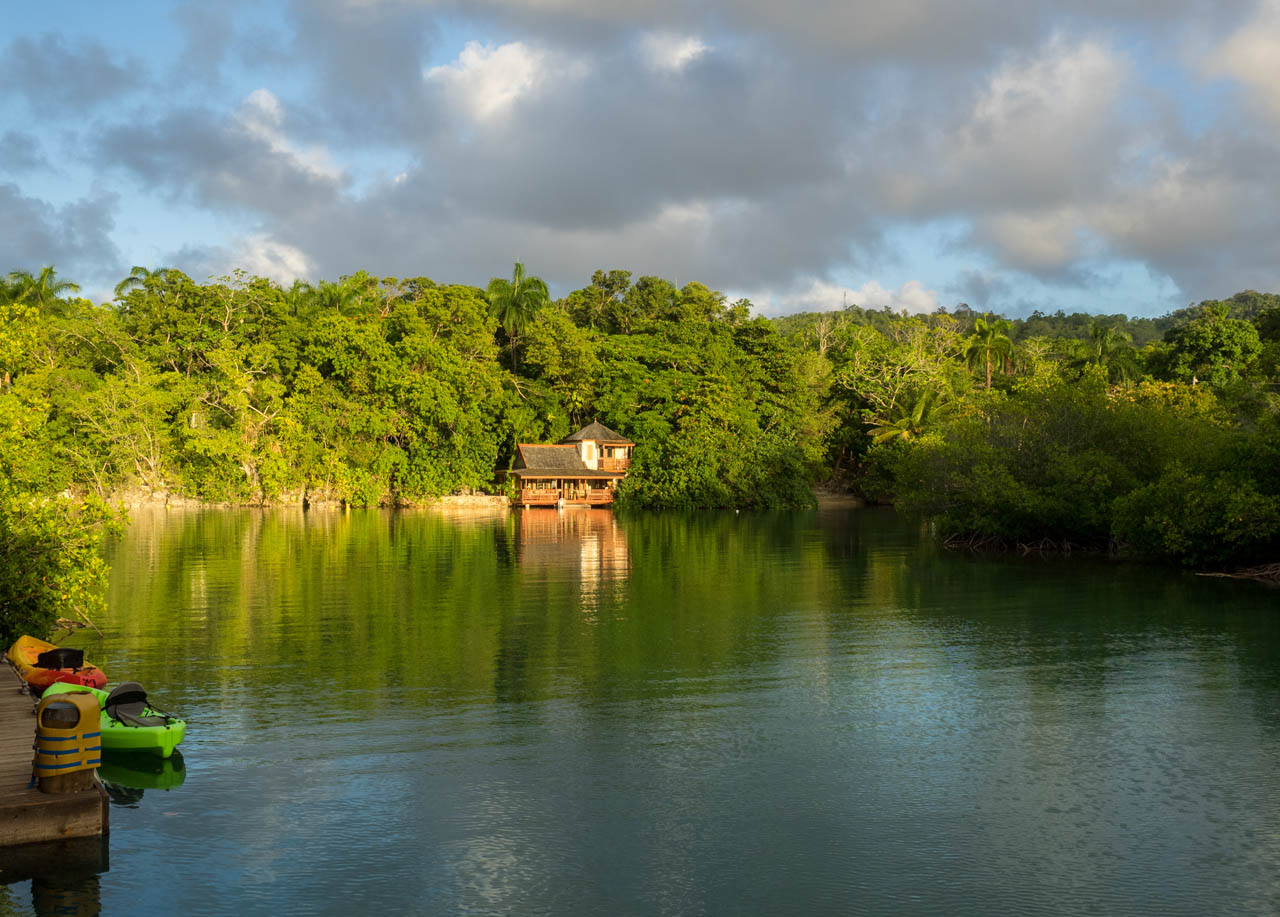 Behind these houses was the lagoon and our cottage, number 8. We had our own dock with two kayaks, a patio with lots of seating, chaise lounges, and a table. Inside, was a large bed with mosquito netting, a bar, a full basket of tropical fruit, and a beautiful large bathtub. I thought that I was in heaven. Then Clayton opened the back door of the cottage that opened right up on to the lagoon so we could jump from our room right into the warm Jamaican water. That is when we knew that we were in heaven and that heaven comes with a free bottle of Blackwell Rum.
Now don't think that we spent our four days at GoldenEye doing nothing but lazing around in the water and drinking lots of rum. On our second day, we received a phone call from the front desk at the hotel asking if we would be interested in going to a "turtle release" that evening. We said "yes" right away. The hotel arranged transport and a small group of us rode out to St. Mary's, just further down on Oracabessa Bay. The driver dropped us at the ruins of an old resort and walked us through the crumbling structure to a beautiful beach where we met Mel Tennant.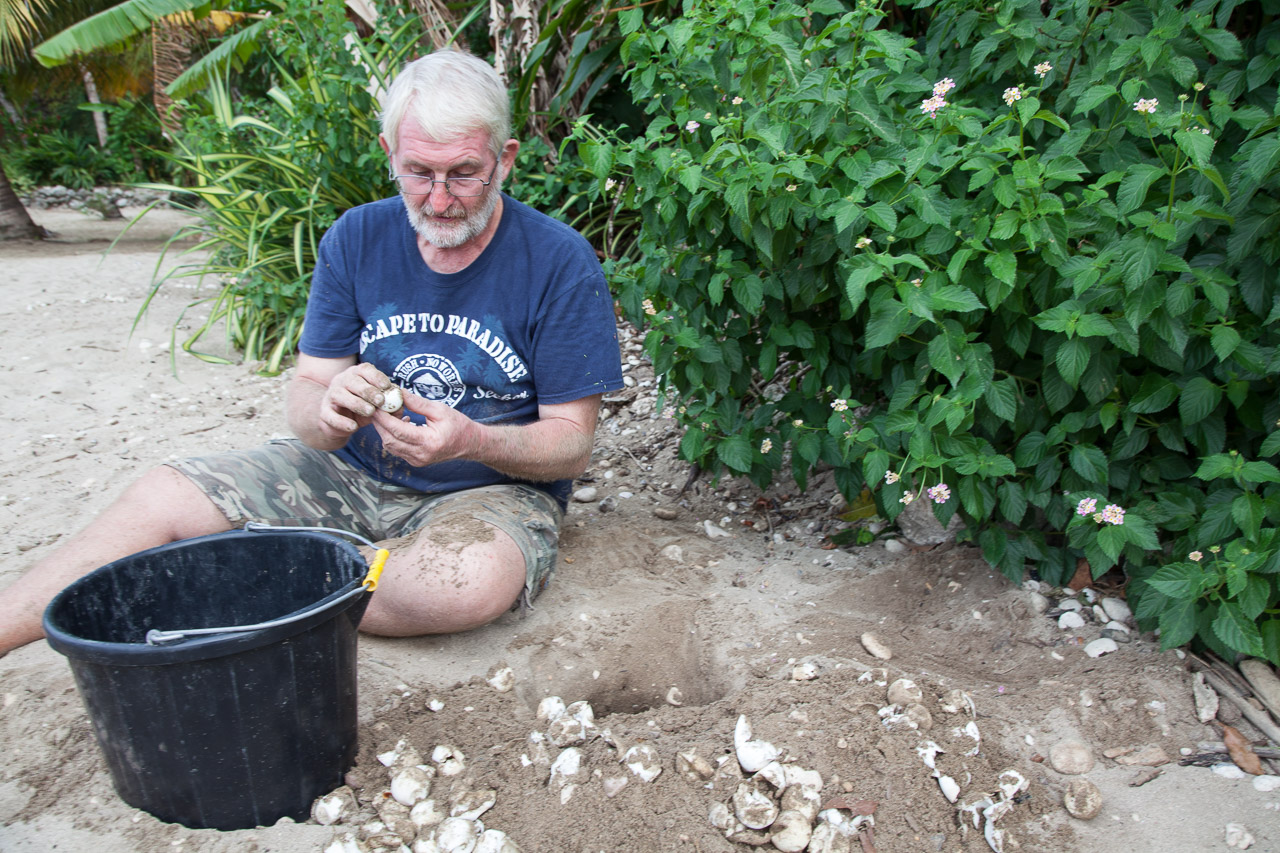 Mel arrived in Jamaica in 2003. He says that he knew nothing of turtles. A couple of years later he began to see the turtles in front of his property in St. Mary's and became interested in helping them. He teamed up with the Oracabessa Fish Sanctuary to create a monitoring system and continues to assist in releasing the baby turtles. He is on track to have helped release 25,000 turtles by the end of 2015. Mel also works with local groups to provide education to the citizens of Jamaica on how to protect the turtles and to keep the people from eating them. Mel explained that while turtle meat is considered a delicacy, it is extremely dangerous to eat because the turtles eat the poisonous sea sponges on the floor of the sea. Those toxins do not cook out and can kill infants and the elderly.
Helping the babies get from the nest to the sea requires constant monitoring of the nests and birthing times. Sea turtles typically birth during a full moon. Mel and his team of volunteers watch for turtle tracks, check for nests, and then begin the countdown to when the babies will hatch.
Our job was to help Mel by taking the baby turtles to the sea to rinse off the sand and egg residue. Then we carried them back up to a bucket near their nest where they were counted. When the turtles had been counted twice, Mel carefully tipped the bucket to allow the turtles to make their way quickly to the water.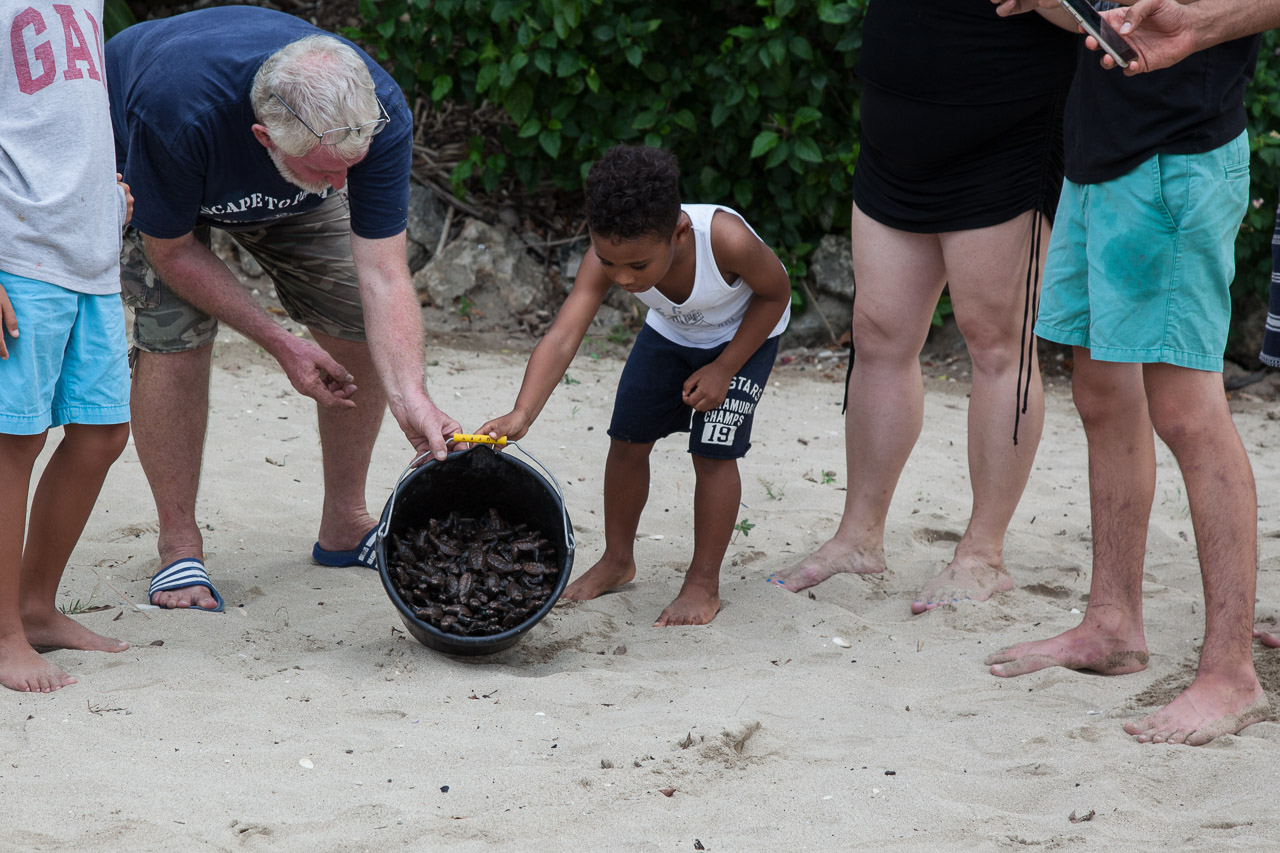 Our job was to watch them and keep wildlife away – seagulls, cats, dogs, etc. Releasing the babies up near their nest so they had to make their own way to the water, allowed for the female turtles to set their internal navigation to that beach spot so they can return in a few years to lay their own eggs. If they don't get this time, then they may never procreate because females always return to their place of hatching to lay their eggs.
That day we assisted with the release of 244 baby turtles. The babies were adorable and while we could only hold them for a few second, we all gave them words of advice – swim fast and stay safe.
We only had four days at GoldenEye, but we have a feeling that we will be back. It is a beautiful place. It is not traditionally luxurious, instead, it feels like going home except to a home where you have warm and friendly staff, a chef, good bartenders, and a great soundtrack of wild birds, waves from the sea, and global tunes on Radio Nova drifting in from the beach bar, Bizot.
-Neeley (travelling 28-31 August, 2015)