Matt and I have been interested in visiting Iceland for several years. Maybe it was my being tired of the heat and humidity, but my interest turned into a desire to change to some place cooler and less sticky. It could also have been an urge to see something very different from Mexico. Whatever it was, Iceland sounded perfect to me.
As it worked out, we were able to take advantage of Iceland Air's great free stopover program. If you fly from the US to Europe on Iceland Air, you can stop in Reykjavik for free for up to seven days. After Jamaica we flew into Boston to see family and friends. From there we flew Boston – Reykjavik – Manchester UK. We chose Manchester because it was the least expensive entry point into Europe.
We chose to stay in Reykjavik for five nights because everyone told us how expensive Iceland was and we feared that a full-week might really hurt our budget. We rented a great apartment through Airbnb. It was $75 USD per night and in the 101 zip code. That's the area that is close to downtown Reykjavik and is great for easy access to the bus station when taking the Fly Bus between town and the airport. It's the easiest and cheapest way to get into town. The buses run often and you can buy your ticket on the bus itself or buy them online before you arrive.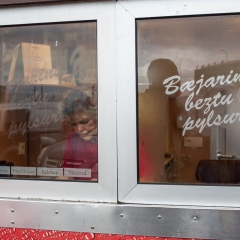 We bought food at the local grocery store, which saved us quite a bit of money. Dining out in Reykjavik can be quite expensive. When we did dine out, we ate hot dogs or diner food. Hot dogs are quite popular in Iceland. For many they are a snack after work or after an evening of drinking. For us they were a great and inexpensive meal.

Our first morning, we joined a walking tour offered through I heart Reykjavik. It's a really helpful blog to read as you prepare for your trip to Iceland and they now offer great walking tours.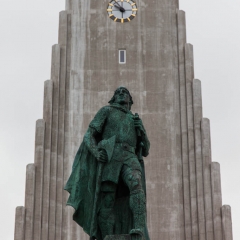 Our group met at the statue of Leifur Eiriksson in front of the Hallgrímskirkja, the largest church in Iceland.
Until recently, it was also the tallest building in Reykjavik. It stands on the tallest hill in the city, making it visible from all over the city and surrounding areas. The church's construction was started in 1945 and the finished building was consecrated in the mid-1980s. The architect, Guðjón Samúelsson, designed it to look like the basalt formations that you see around Iceland. It is dedicated to the famous Icelandic poet, Hallgrímur Pétursson. They have weekly organ concerts and meditation sessions. It's a unique and beautiful building and worth visiting.
The tour took us through the downtown area of Reykjavik, including the Parliament Building, their new concert hall and event venue, Harpa, the main shopping district, the Einar Jonsson Museum, and other points of interest. It was a great way to orient ourselves to the city. The guide also pointed out some great places to get coffee, lunch, and other sights to visit on our own. She also pointed out where to get the Icelandic specialty, Hákarl, or fermented shark. This was something that we were both hesitant about, but interested in trying. I think that we were really daring ourselves to try something that sounded so strange to our taste buds. More on that experience shortly.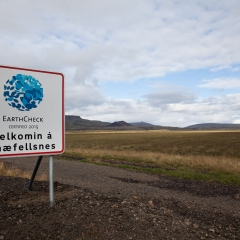 On Saturday, we rented a car to drive to and around Snæfellsnes Peninsula. This peninsula is the area just north of Reykjavik. When you visit Reykjavik, one of the popular tour routes is called the Golden Circle which brings you east and south of the city. We weren't interested in running into tour buses of tourists, so we opted to drive north instead. Renting a car in Iceland is not inexpensive, so we had to fit our tour into one day.
Matt drove and said that the roads were great and we didn't have any issues navigating. One trouble that we did encounter was that we kept stopping to take photos of the incredible scenery. The wide-open spaces with distant mountains, the many waterfalls, white farm houses and sheep appearing as dots in the lush green hills were all so beautiful and very different than anything we had seen before. I fell in love with the friendly and beautiful horses in Iceland. We stopped a couple of times because I wanted to get closer to them. As you can see, they wanted to be closer to me too. Sadly, I couldn't fit one into the car, so I couldn't take one with me. Also, Matt said "Not a chance" when I asked for one.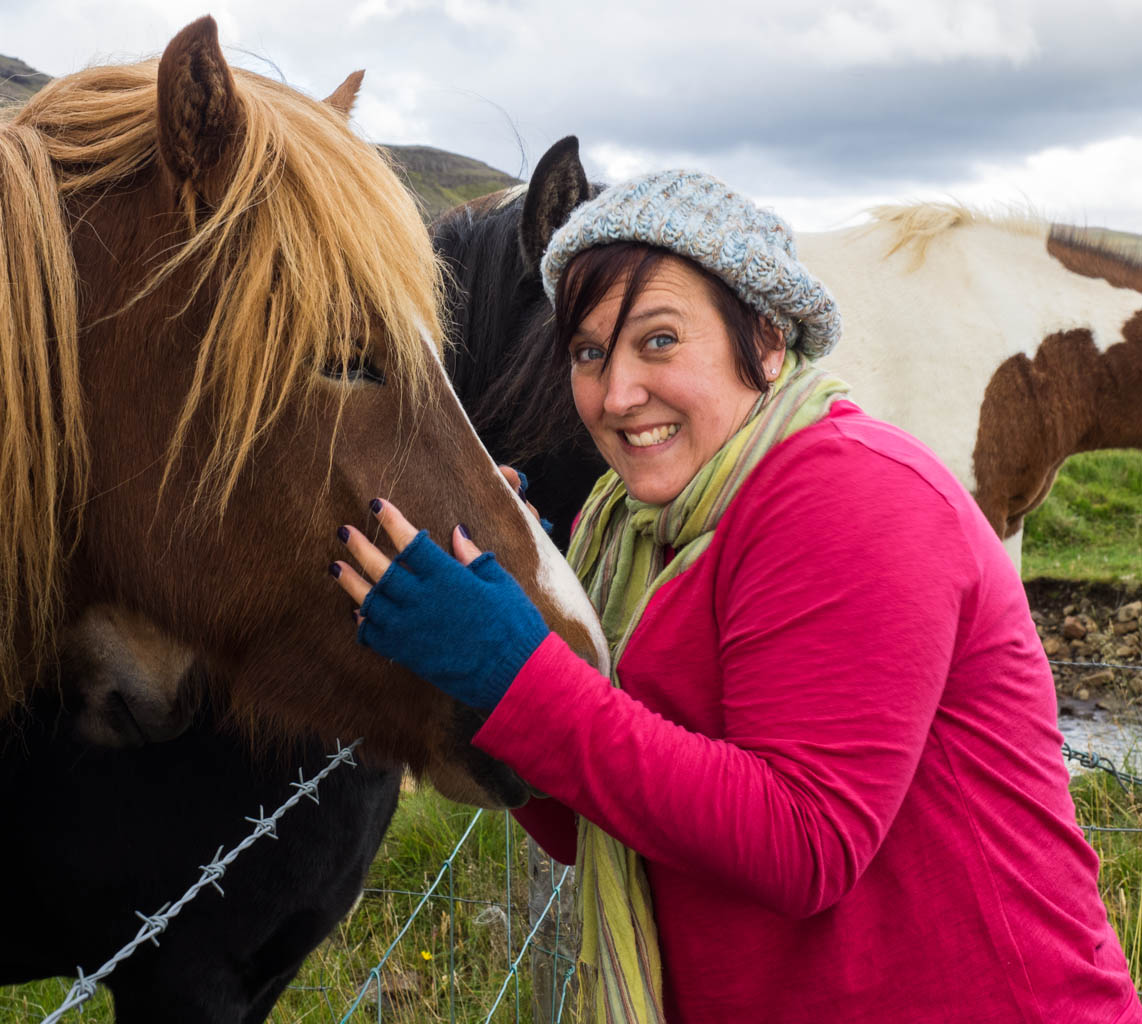 We drove all the way around the Snæfellsnes, stopping at one of Iceland's many black sand beaches, Djúpalónssandur. This was the site of a ship wreck back in 1948. Remains of the shipping trawler can still be found on the beach.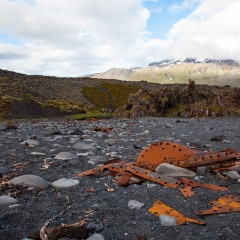 You are asked not to disturb them as they are left as a memorial to the fourteen seamen who died that night.
Another stop was to climb up Saxhóll Crater. Iceland is a volcanic island and many craters dot the landscape. This was one right off of the main ring road around Snæfellsnes that we could easily climb. It offered a nice view of the Snæfellsnes glacier in the distance.
On Sunday, we hung out in Reykjavik. This time we visited the flea market near the main harbor. This is where, we were told, was the best place to purchase Hákarl, the fermented shark that is so famous, or maybe infamous. It is a national dish in Iceland of cured, rotten shark meat. The meat is allowed to completely decay and cure because the meat is poisonous when fresh due to the high levels of toxins in the shark's body. Hákarl is usually served cubed and eaten with toothpicks. We decided that we should try this delicacy. You can watch this on our video. I will end this with saying that the smell is worse than the taste. I had to wash my hands three times after touching the cup that held the pieces of shark meat.
Other than the Hákarl, we loved Iceland. I can see why people get a dreamy, far off look in their eyes when you ask them about their trip to Iceland. The people are friendly, it is easy to navigate, and the scenery is spectacular. Iceland is more expensive than some other European countries, but we found that renting an apartment, preparing most of our meals in the apartment, seeking happy hour specials for local beers, and eating hot dogs. All of this helped us to keep the costs down, making Iceland less expensive.
-Neeley (travelling 9-14 September, 2015)