From Reykjavik, Matt and I flew to Manchester, England. We found that flying into Manchester was far less expensive than London because of airport taxes. When we purchased our ticket, we decided that we would rent a car and travel around England for a couple of weeks before heading to London to visit family. We decided to visit Yorkshire located in the north east of England.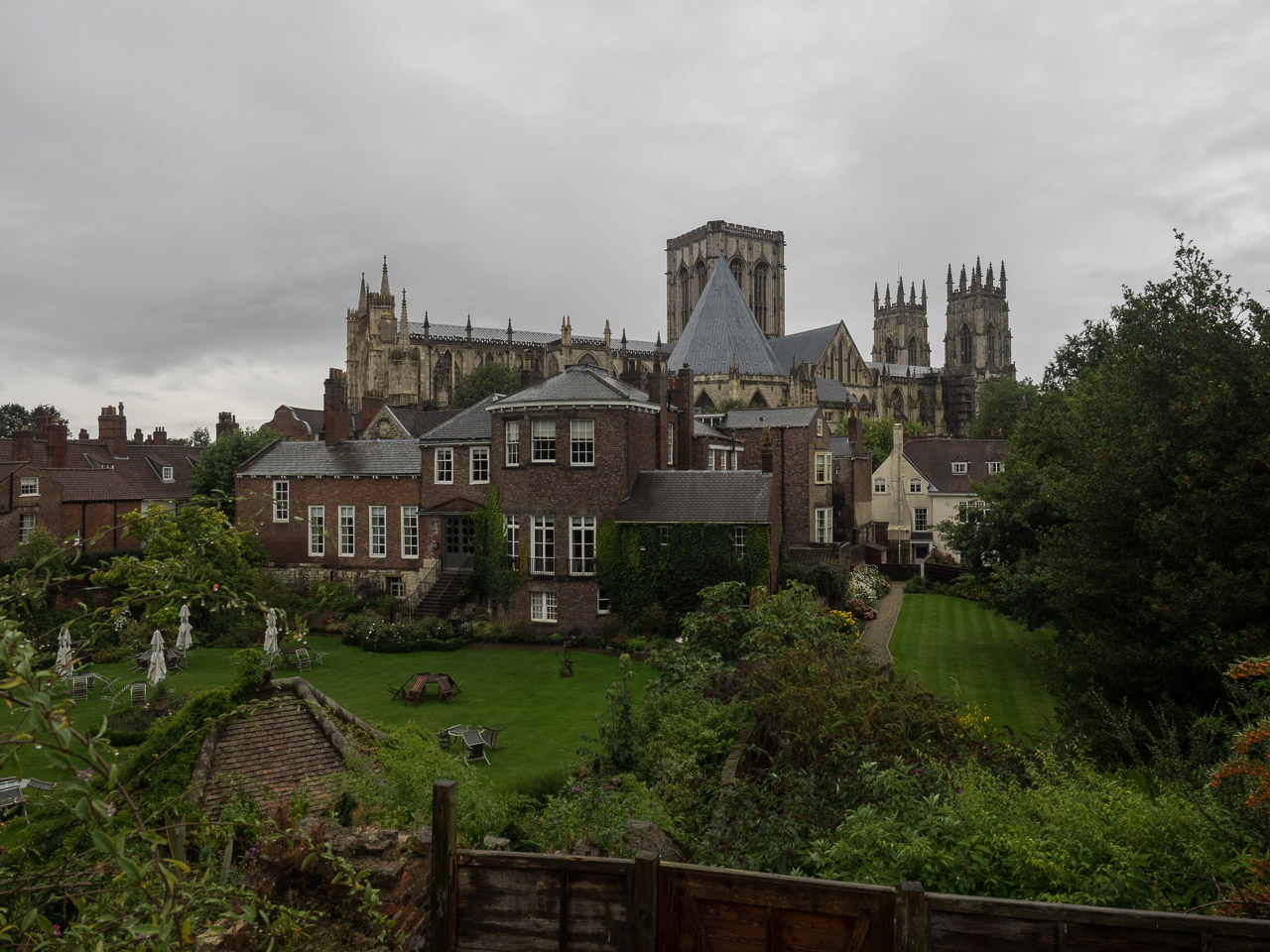 Our first stop was the town of York. It's one that I have wanted to visit for a long time. The York Minster (cathedral) and tales of all the delicious cake shops were a big draw for me. We stayed at a lovely bed and breakfast that was about a 20 minute walk into York. York is not the least expensive place to stay, but it's worth a visit. The history is fantastic. The town is easy to walk around as most of it is car-free. And, much to Matt's excitement, York is home to the National Rail Museum.
We spent two full days wandering, often in the rain, around York. We walked along the medieval town wall, visited the Richard the III and Henry VII experience to learn all about the English Civil War (well, one of them, England had more than one civil war). This one is also called the War of the Roses. We ate cakes, drank tea, drank delicious pints at the most fun pub in York, the House of Trembling Madness. It's in a building that was built in 1180 AD. It's a beer shop on the ground floor and a fantastic pub on the first. Their food and beer are delicious.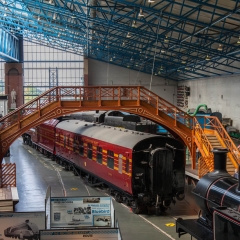 On our final day, we went to the National Rail Museum. This was, admittedly, quite fun. You could easily spend an entire day here touring the old cars, sifting through the different exhibits, attending the various daily presentations, and eating delicious food in the cafe. We only had a few hours to spend. There is a great obsession with trains in England and now I can see why. The history really is very interesting and trains are are becoming my favorite way to travel.
Our next base for exploring more of the Yorkshire countryside was Scarborough, a Victorian seaside town. It's a bit rough on the edges, but is perfectly located for exploring Yorkshire. We visited the lovely town of Robin Head's Bay. It's a small town on a fairly steep hill leading down to the small bay. Visiting in the autumn was perfect as we still had beautiful weather but very few tourists. We were there during high tide and families were out on the sand playing in the tide pools.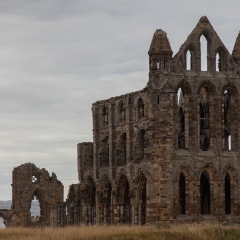 The second town on our visit was Whitby. Whitby is most famous for its abbey which is in ruins, overlooks the fishing town of Whitby. The abbey is famous for inspiring a local writer, Bram Stoker, to write his most famous novel, Dracula. We toured the abbey on a rather dreary grey day. It was the perfect weather and the setting on the cliff overlooking the ocean is quite dramatic.
We also looked ahead at what we wanted to see while in York and the rest of England and decided that it made a lot of sense to purchase an English Heritage Pass. The pass gave us free access to many sites in England and discounts in many others. It is good for one year, so when we return to England in the spring, we can visit more sites.
The following day we wandered around Whitby itself. It's a busy fishing town with lots of shops and restaurants. We stayed long enough to enjoy the sun setting over the boats in the bay and to get a delicious dinner of fish and chips at the Magpie Cafe.
We toured the remains of Helmsley Castle. Helmsley Castle is about 900 years old and was used as a castle, fortress, and private home up until the 1700s. The house changed hands many times over the centuries and is still owned by the Feversham family, but is held by the English Heritage Trust.
We then jumped in the car to see the Rievaulx Abbey in Helmsley, which turned out to be one of my favorite stops. The abbey, like Whitby Abbey, is really just the ruins of an old abbey. It is one of the first Cistercian Abbeys built in England and dates from 1130. Even though ruins are all that are left, the setting and the remaining structure is very beautiful.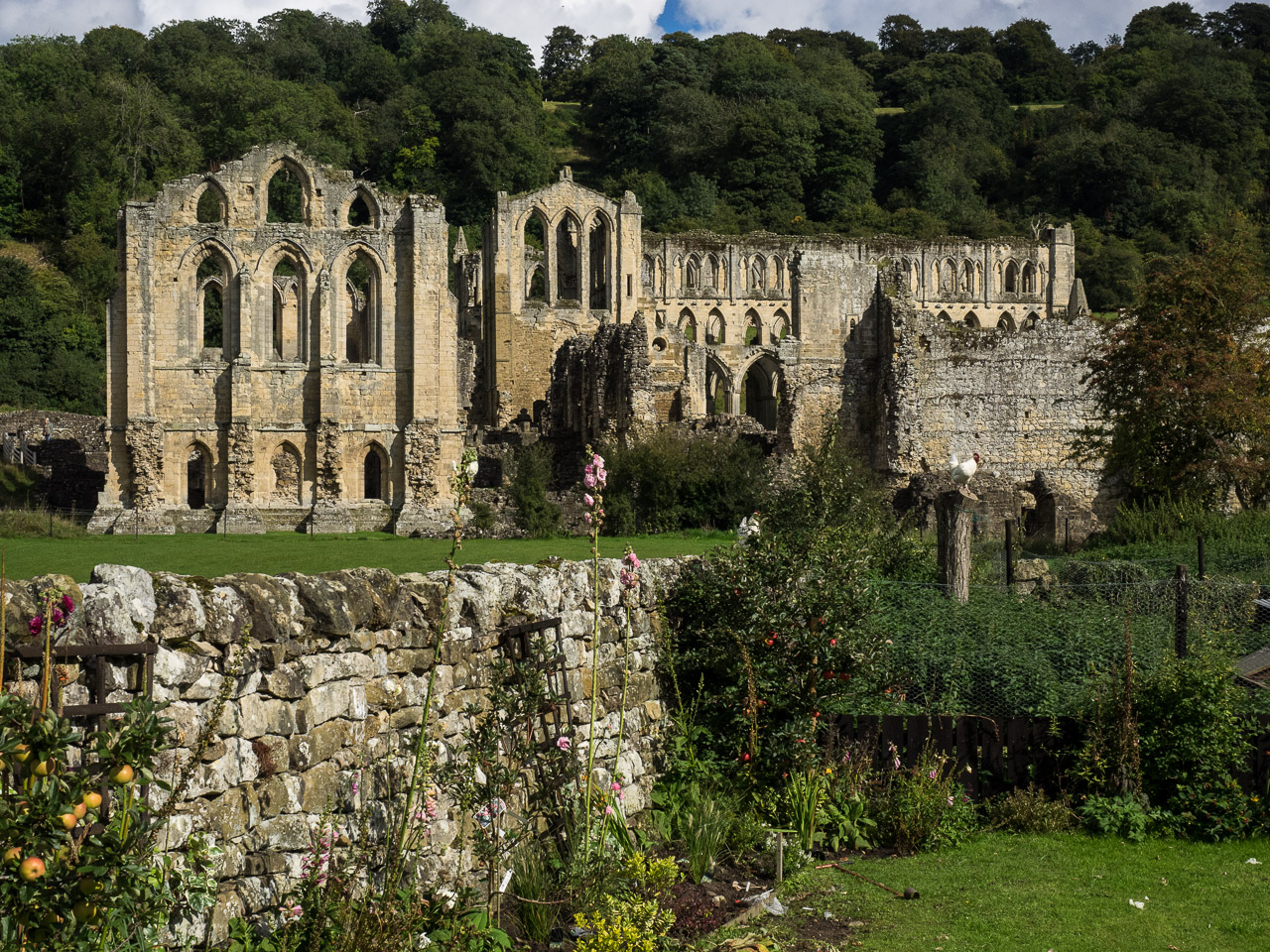 Both Helmsley and Rievaulx are worth visiting together with a stop, as we did, at Ryeburn Ice Cream Parlour. It has been voted best ice cream in England on more than one occasion and it really is delicious. When we were there, they had a new flavor, gin and lavender. I highly recommend it. The ice cream is thick and creamy with just a hint of herbal gin and the floral note of lavender, and not at all heavy-handed on either flavor. They will let you sample, which is most helpful because they have so many flavors to choose from.
Another of our favorite places that we visited in Yorkshire was Castle Howard, about 15 miles north east of York off of the A64. It's a grand estate taking 100 years to construct. Building started in 1699 under the guidance of the 3rd Earl of Carlisle. The house and grounds are magnificent and worth far more time that we allotted. There is a lovely restaurant, shop, butcher shop and grocery, coffee shop, and cafe. The garden is stunning, even in the fall after most of the flowers long-bloomed and died.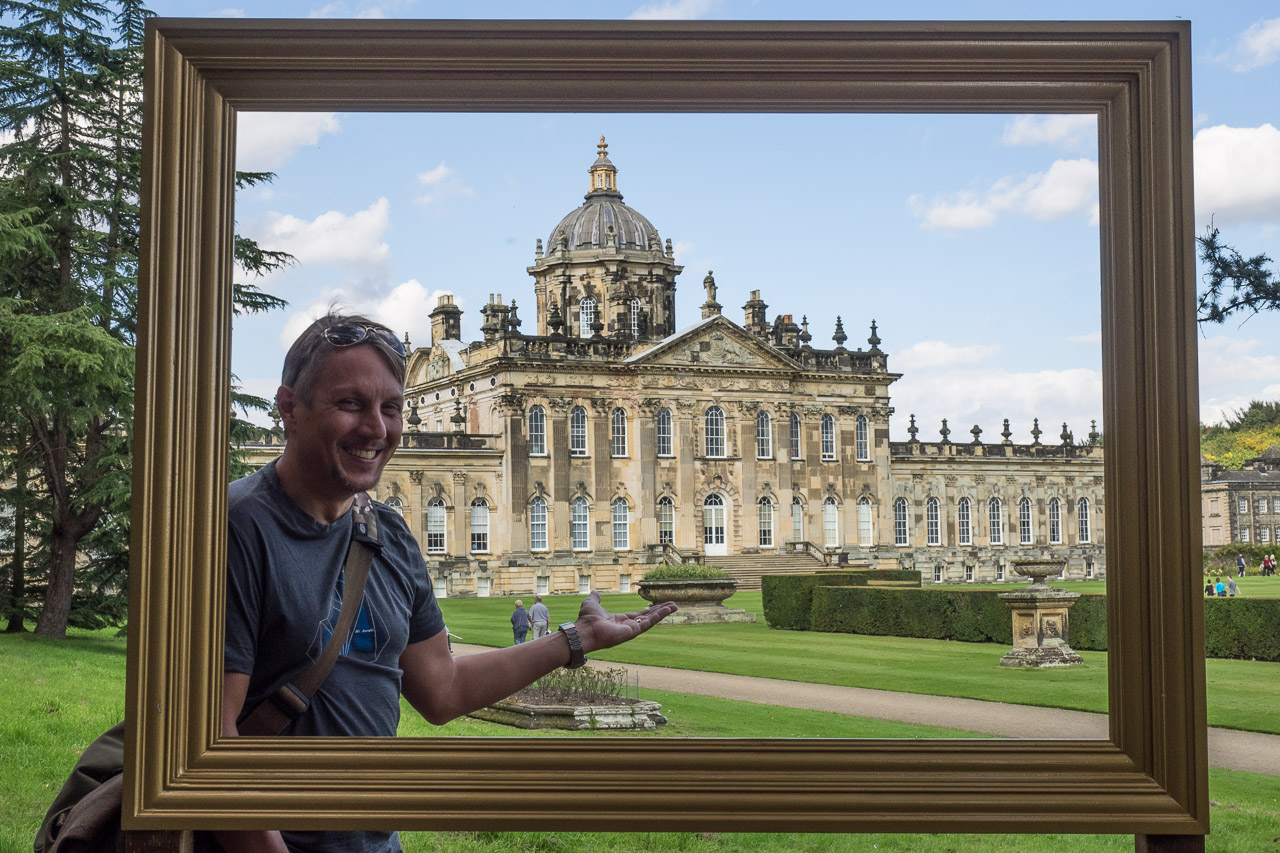 We did not take a tour, but we did walk through the home. The Howard family still lives there some of the time. While their private rooms were off-limits, we were able to see many of the bedrooms saved for guests, the main hall, and many of the more public areas of the house. They also had an interesting display about how the house has been used in cinema and television. The Evelyn Waugh book, Brideshead Revisited, was made into a television mini-series in 1981 and then into a movie in 2008. Both were shot at Castle Howard. There were also displays of artifacts from the family through history, most notably, the 18th, 19th, and 20th centuries when the family's liberal politics brought them into prominence. Lady Georgina Cavendish was born Lady Spencer and is the great, great, great, etc. aunt of Lady Diana Spencer also known as Princess Diana.
We could have spent days reading about the family's history and getting lost in titles and details, but the gardens called to us. The day that we visited was gorgeous and the bright blue sky outside was too much to resist. We spent quite a while wandering the grounds and the Victorian-styled rose garden. When you visit, give yourself an entire day. It's worth the price of admission. (This one was not part of the English Heritage Pass, but we did receive a discount.)
Sadly, we had to leave Yorkshire and head south. The weather was turning on us and we had to make our way to London. We stopped in Stratford-upon-Avon for a couple of days to explore some of the Shakespearean and Tudor history outside of London. Again, our English Heritage Pass came in handy as we were able to get quite a discount on passes to see all of the Shakespeare sites on one ticket.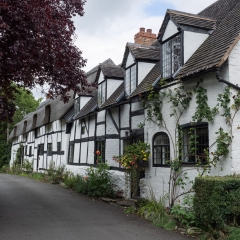 Stratford-upon-Avon is a lovely little town to visit for a couple of days. We also happen to be there during an autumn festival, so a few of the streets downtown were closed off to food vendors. We toured Anne Hathaway's cottage, Shakespeare's mother's Tudor-style farm, and had some pretty delicious curry (which had nothing to do with Shakespeare, but was quite good). We were also there the weekend that both the season of Doctor Who and Downton Abbey were premiering on television, so we did not spend our two nights out at any of the many pubs in town. We stayed in, eating our curry and watching two of our favorite television shows.
Our last visit before getting to London to stay with family was Bletchley Park. Matt was keen to see what they had about the history of the famous code breakers from WW2. I was interested in the political history. This site does not disappoint. There is an awful lot on display.
We opted for the audio tour, which wasn't the easiest to follow because much of it was more background rather than the usual see the exhibit and type in corresponding letter or number into audio guide and listen. But we listened and wandered. They had cars and motorcycles that were used by couriers. Entire huts recreated to look like they did during the war. Each hut was comprised of several rooms off of a long corridor and each hut was tasked with different aspects of the code breaking and analysis of information.
The main house was used in the filming of the movie The Imitation Game. One room in particular was used to recreate a pub in the movie. The set has been left as it was in the filming and seen in the movie. It was great to see behind the scenes how the filmmakers and set designers so meticulously recreated an English pub from the 1940s. They also had photos and costumes from the film on display.
The final building had a huge exhibit with a replica of a "bombe machine" (Christopher), the machine that Turing developed to help decode the German Enigma machine and then decipher the information. They have a lot on display about the Polish code breakers who were the first to break the Enigma, when the Germans were using it occasionally. After war was declared and Poland had been invaded, the Polish asked the English for help. This building has all the technical information on how the machines work and the historical data on everyone who was involved – spies, decoders, couriers, etc. I honestly think that you could spend a couple of days at Bletchley and not get through everything. Luckily, they have an inexpensive and delicious mess hall for cups of tea and delicious lunch.
After Bletchley, we drove to London to stay with my sister and brother-in-law. We wanted to spend some time with family and to take a break from sight-seeing. Though, while in London we did visit Churchill's War Rooms which were quite fascinating and Greenwich. Both are really worth the time when you go to London.
-Neeley (travelling 14 September – 5 October, 2015)
(Part 1 of the Gallery of our trip in England, large number of pictures! Part 2 located here.)