Saturday the 27th of June, 2015
Due to lack of availability at Cofradia (See previous post), we moved into the main city of Tequila to wander around for a day and see what it offered. We didn't know what to expect but were worried that it would be full of tour buses with people on drunken tequila tours. We were happy to find a pretty little town with a lively town square.
We left Cofradia in the late morning, moved our luggage to a the new hotel, conveniently located right downtown a couple blocks from the town square. As usual, we got a late start, so by the time we checked in to our hotel, it was time for lunch.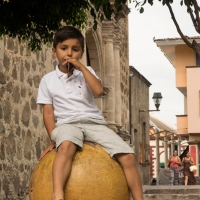 We like Cholula hot sauces and found their restaurant Cholula La Fonda very close to the town square. The place is a bit touristy because it is next to the Cuervo distillery, but the service is great. If you are hungry, go there. The portions are massive and the margaritas are tasty.
To work off our large lunch, we wandered around the town's square, the main church, and the small downtown area. We found the Cuervo gift shop, loaded with all the different products they have and their massive crow statue which is their mascot/logo. We decided to not take the tour here or Sauza. We figured that after our great tour at La Cofradia the day before, getting onto a crowded bus to tour a large industrial tequila plant was not going to be as interesting.
After a brief break at the hotel, we went out early evening back to the square and discovered that the church was being used for a couple Quinceañeras. Adults and children dressed up, golden light, perfect time for some pictures!
As it got dark, we went looking for the famous La Capilla (also this link) which happens to be just a couple of short blocks up from the church. The story we heard about the bar is that it is famous locally also due to it's name. "La Capilla" is Spanish for "The Chapel", which is also the church down the road. The men of the town were known to tell their wives they were off to "La Capilla"and left it open as to which house or worship they were visiting that day.
La Capilla is a tiny little bar, but they will find room for you. We sat at the bar and enjoyed a round of "batangas". They were delicious. I would like to say a big THANK YOU to Daniel from Guadalajara, who after talking to about Guanajuato (our next destination) was kind enough to buy us a round. We stuck around a bit longer and conversed a little in pidgin-Spanish to the couple next to us before heading out to find some street tacos.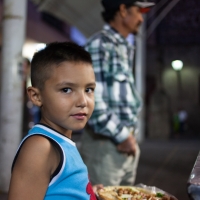 Our last stop were to get a couple tacos and a few pictures of the kids helping their parents at food stalls. We finished up and called it a night before the drive the next day.
Enjoy the pictures.
-Matt