Mexico City is huge, really huge. The entire urban area of Mexico City, or D.F. for short, has a population of just over 21 million people making it the largest Spanish-speaking city in the world and the largest city in the Western Hemisphere.
Driving into the city was dramatically different than all the other driving we had done so far. Luckily Matt is comfortable with city-driving. I had the fun task of navigating. Mexico City has an incredible amount of congestion and air pollution. In an attempt to alleviate this, in 1989, the city government instituted a system called "Hoy No Circula" or no-drive days. Who can drive on what days depends on the license plate number. We had a vehicle from outside of Mexico, so our no-drive day was Thursday. Of course, we didn't know this until we had already arranged our schedule and booked our hotel. Since we were not residents of the city with out of state plates, we were able to secure a permit to put in our window that would give us permission to drive any day of the week for up to two weeks. We found the website and got some help with the translation. It was not too difficult to fill out. They then sent us the form in an email and we posted the permits in the rear driver's side window. On our way out of town on a Thursday, we were stopped by a police officer. He saw the permit and then wished us a pleasant journey and got back into his car.
As I mentioned, Mexico city is huge. There is an awful lot to do that is spread out all over the city. Luckily it has a great bus and subway system, plus taxis, and Uber.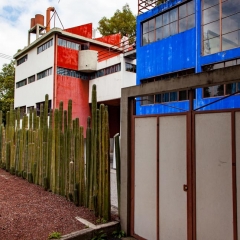 Our first visit was Casa Azul, the former home of Frida Kahlo and Diego Rivera. Casa Azul has been on my list of places to visit for many years. The house, where Kahlo was born and where she died, has been turned into a museum. The house surrounds a beautiful courtyard where Diego and Frida displayed their collection of Pre-Columbian statues. As you walk through the home, you see a mix of artwork by both artists, art by the many artist friends who stayed with the couple, and personal items belonging to Frida. The kitchen was my favorite room. Frida loved to cook for her visitors, even when she was in terrible pain from her numerous surgeries, she would lovingly prepare meals for friends and family. We spent several hours at the house, and even got to see Vogue magazine's exhibit of Frida's clothing, jewelry, and personal effects that were hidden for years in a closet in the house. Unfortunately, cameras required an extra fee in the house and the security guards were the most diligent I have ever encountered. But we can see more at the links above.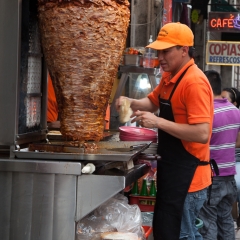 Friday nights are when Chilangos (residents of Mexico City) head to Arena Mexico for the Lucha Libre. Think American WWE with even more drama, more excitement, and even more screaming. Arena Mexico was a short walk from our hotel and the event started at 8 pm. Matt and I went a bit early to check it out. Outside Arena Mexico are hundreds of stalls selling masks, tshirts, dolls, stickers, patches, and anything else you an imagine with your favorite luchador on it. We suggest that you wander through the vendors if you go to the event, they are a lot of fun, and filled with color.
We splurged for the seats only three rows back from the ring, paying roughly $20 USD per seat. Once inside, we could tell that there probably weren't any bad seats in the whole place (later we discovered that Garrett and Rosie had bleacher seats and enjoyed the view from there). There are sellers of every sort of snack you can imagine, from very large cups of beer to chips with spicy chili and lime sauce, hot dogs, popcorn, pizzas, nachos, and on and on. At 8 pm the extravaganza began. The fans were screaming and cheering from start to finish. There are several bouts, starting with the newer luchadors. The outfits and masks are fantastic. And while they look a bit crazy and the fighting isn't MMA, the acrobatics involved in the bouts are impressive. With the third bout we were treated to an unexpected even with a dozen female luchadors fighting. We had no idea that there were women luchadors. They were all fantastic and every bit as fierce and athletic as the male fighters. The final bout was the best of the best. That night Rey Escorpión won. From what we could tell, he was the "bad guy" and not the fan favorite, but since I got to meet him before the bout, I was pretty happy for him. You really must spend a Friday night at Arena Mexico for a Lucha Libre event if you ever visit Mexico City.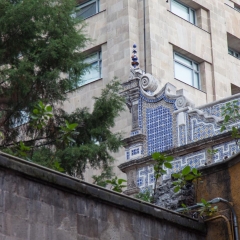 On Saturday we visited the upscale neighborhood of San Angel. Frida Kahlo's and Diego Rivera's studios are located here, as is the really fun Bazaar Sábado. It's a giant art and crafts market that takes place ever Saturday. It fills two parks and several shopping centers. It is a wonderful place to see the work of local artisans. We did do a little shopping while enjoying the wonderful atmosphere of everyone being out and about on a Saturday afternoon.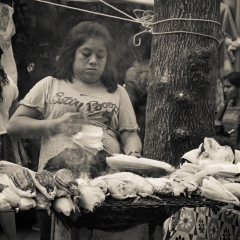 One of the things that we enjoyed in Mexico City was the food The street food is, as in most of Mexico, wonderfully delicious. We also enjoyed new Mexican cuisine. One great place is Cauro on Havre (at the corner of Marsella) in the Jaurez district. It's a new gastropub that serves wonderfully delicious modern takes on classic Mexican flavors. Their cocktails are incredible. Matt had one with tepeche (a Mexican alcoholic pineapple juice) and rum. I had their take on a gin and tonic that was served with juniper berries, cucumber, and cardamom bitters. If you want to splurge a bit, and taste some of new Mexico, check it out.
The other wonderfully delicious treat we had was churros and hot chocolate. We went to the famous churreria El Moro located at Eje Central Lázaro Cárdenas 42. The churros come with plain, granulated sugar or with sugar and cinnamon. We opted for the sugar and cinnamon.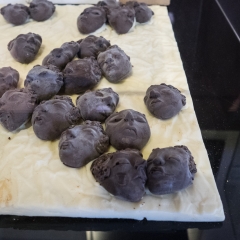 Speaking of chocolate, we had to stop at the Mucho Mundo Chocolate museum. It's a small private museum in an old house at Milán 45 on the corner of Roma in the Juárez district. Entrance is $70MXN or about $5.50USD. The house is filled with displays of chocolate artifacts, making and serving dishes, and a lot of history. Attached to the museum is a chocolate shop and cafe where you can try all sorts of delicious chocolate candies, pastries, and hot chocolate. Matt was happy because they offered hot chocolate made with hot water as well as with milk, as his lactose intolerance makes milk based hot chocolate hard to enjoy. I will admit that while it wasn't my favorite, making it with hot water was pretty tasty. The complexity of the chocolate came out really nicely.
We enjoyed walking all over the city. One day we took the subway to the Zócalo , or the main square which has its roots in the Aztecs and is now the principal plaza in town for all sorts of cultural events. We walked back to our hotel, wandering passed the Palacio de Bellas Artes and down the Paseo de la Reforma to the monument to the revolution. Mexico is a wonderful walking city with so much to see and do. July is a great time to visit because it's not too hot as the city is at a very high elevation, so it never really gets too hot. We had some rain that kept things cool and clean.
-Neeley (travelling through Mexico City July 9-16)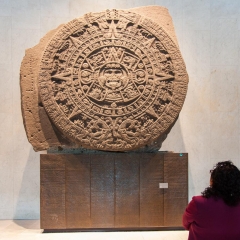 We also stopped in other locations, during our week in DF. The Anthropology Museum is a place so large that after two hours we had only scratched the surface of its offerings. The Modern Art Museum to view a photography exhibit of Alvarez Bravo. Had breakfast at El Cardenal, more hot chocolate and a delicious breakfast. We even met up with Garrett and Rosie while walking around, who were staying in DF at the same time.
Neeley and I enjoy playing board games, so I posted to BoardGameGeek looking for any local games while we travel through Mexico. I received a couple of great responses from groups in Mexico City and was able to spend two nights playing with two with. I would like to says thanks to Mauricio and crew from Gamers Unidos, who were incredibly friendly and great to talk to and play games with! I also had a chance to play games with Mexico on Board, and even though I lost every game of SET with them, I had a great time playing and chatting (and winning at TimeLine) . I hope to meet up with the groups again when I make it back to Mexico City.
-Matt