San Miguel de Allende was our next stop after Guanajuato (minus the stop for ice cream on the way). It was originally a destination that we had planned on spending a long time at, but shortened after finding Guanajuato. After spending four days here, I think we made the right decision.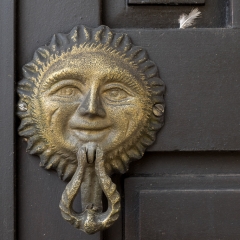 This change took awhile for us because in the past we enjoyed buying gifts for friends, family, and ourselves when we traveled. While in Mexico these past months, we have had the luxury of being able to carry more than usual because of the truck. But we will soon be selling the truck and traveling with just our backpacks and suitcase. We won't have any room for extras.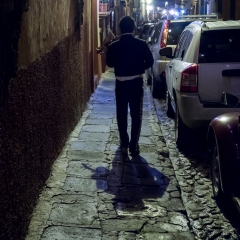 Another big change for us was that we decided to change our plans for our trip. We originally were going to drive to Panama and then sell the car, and fly out. But we started investigating how to legally sell a car in Mexico or any of the other central american countries. It quickly appears to be a logistical or tax nightmare (selling vehicles in the no man's land between countries was the popular suggestion). Even more so with an older car, with tax rates over seventy percent in some of Central America. And to be honest, we were also starting to wonder if we were willing to deal with even more humidity as we continued south.
We made a decision to continue across to the Caribbean coast and then drive out of Mexico, sell the car in the states, and continue our travels around the world. We could buy gifts for people now, but not for us. Our gift was the trip itself, the photos we take, and the friends we make as we travel.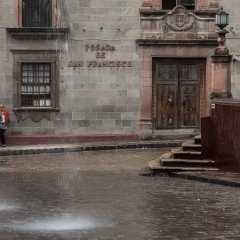 On our first night in San Miguel de Allende, we spotted a camper truck with an Instagram tag on it. We looked them up and found that it was another couple traveling around Mexico. We sent them an email and arranged to meet the following afternoon for drinks.
The following afternoon, after the heaviest rainstorm we had seen on our trip, we met Rosie and Garrett of As We Go. We hit it off right away and spent the evening with them. We shared drinks and discussions about travel around Mexico, having a great time. We planned on meeting up again in Mexico City as it looked like our short term plans intersected.
Make sure you check out their website, facebook, and instagram and follow their travels as they continue south into south america.
Take a look at in our photos of San Miguel de Allende in the gallery below.
-Matt (travelling in San Miguel de Allende from July 5-9)