There is a small town between Guanajuato and San Miguel de Allende that is famous for two things. First, and arguably most importantly, it is where Father Miguel Hidalgo called for a revolution against the Spanish during a church sermon in 1810. The town was then called Dolores, but was renamed in honor of Father Hidalgo, to Dolores Hidalgo, who became one of the heroes of the Mexican revolution.
Secondly, the town is known for ice cream. They have very good ice cream of all flavors, including some "exotic" flavors, such as shrimp and octopus, mole, avocado, and elote (corn).
On Sundays the park is ringed with ice cream stands. The park was full of church-goers, residents out for a good time with their families, and ice cream carts. And there are dozens of ice cream carts. Some of them are quite good, while others are not as good. So it's best to try as many as possible to find the best one. At least that was our approach.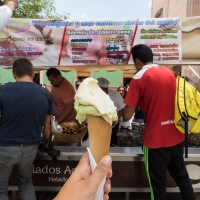 We tried as many flavors as we could. I had the following: avocado, elote, cookies and cream (by accident, I ordered cajeta, which is a caramel made with goats milk) and coconut. Matt had sorbets because he has issues digesting dairy. He chose two flavors, tequila and lime. He said that it tasted like a really cold margarita. My favorite was the avocado. The corn didn't really taste like corn, just sweetness. The coconut was fine, but ordinary. I hate cookies and cream. I gave it to Matt. If you are driving between Guanajuato and San Miguel de Allende, do it on a Sunday and go the park and eat as much ice cream as you can. It's cheap and delicious.