Ever have one of those experiences where you learn about a place and then when you tell people that you are going there, they say "oh yea, it's great, we loved our visit"? Then you you feel like the last ones in the world to know. That was Guanajauto for us.
We were flipping through a guide book, plotting out our route to Mexico City when we came across a few photos of Guanajuato. The original plan was to drive from Tequila to San Miguel de Allende, but after we read a bit about Guanajauto, we decided to stop for a week. It was a gamble that paid off.
The city is not very big, only about 175,000 people. It's nestled into a valley, forcing the streets to be narrow, most not even wide enough for cars. There are two main roads in town that weave through and under the city, yes under the city. There used to be a river under the city, but it was diverted and roads were built. There are some smaller roads in town and they are fairly narrow, one-way streets that wind around into some of the neighborhoods and often end at an alley or at the top of some stairs.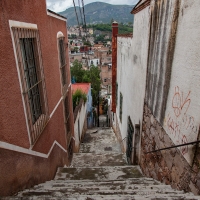 We used Airbnb again, staying up on Panoramica, which is the road that winds around the top of the ridge above the city. We booked a small apartment, but when we arrived the owner moved us one street up into a house. A GIANT house. We had 3 floors, 5 bedrooms, 4 bathrooms, maid's quarters, laundry, a full-sized kitchen, terraces, a sunroom and a roof deck with an incredible view of the city. We were about a 15 minute walk down into town and about a 30 minute walk back. Remember, Guanajuato is in a valley, a deep, valley. The alley-ways to get into down are steep and uneven. Going down was not too bad. Going up at the end of the day was quite a workout, but not impossible.
The city is beautiful with brightly colored houses dotting the cityscape. Guanajuato is home to the Festival Internacional Cervantino an international performance art festival held annually in October. We heard that it was during the early years of this festival that a local politician wanted to make the town more attractive for visitors attending the festival. So he started a contest to award the family with the prettiest facade on their house. So people started to paint their houses bright colors to attract attention. We are not sure true this is, but it is one possibly explanation for the brightly colored houses.
Guanajuato has an interesting history. It came to prominence in the mid-1500s when the Spaniards discovered the local silver and gold mining operations. These operations were exploited and the city began to grow. When you walk through you really feel like you are in a medieval European city, but you are always aware that you are in Mexico.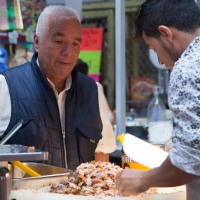 The street food is the first reminder. It is everywhere and delicious. One of the days there, we went on a street food tour with Mexico Street Food Tours. John was our guide and he was really fantastic. He's lived in Guanajuato off and on for several years. He knows the town well and led us through many local food spots – both street vendors and markets. Everything was delicious. We started with juice for breakfast and moved on to tacos, quesadillas, carnitas, etc. We learned that in Guanajuato, carnitas is a breakfast dish, while tacos, quesadillas, and tamales are eaten in the afternoon and into the late night. While meat was the staple of all of our stops, it is possible to find vegetarian options too. We saw a local spinach used in tamales, lots of uses for squash blossoms and the squash itself. Everything was seasonal and delicious.
We did tour some of the important sights of the town. Guanajuato is famous for being the site of the first battle of the Mexican Revolution. One of the heroes, a miner named Juan José de los Reyes Martínez , is nicknamed El Pipila. The story is that he shielded himself from the Spanish arrows and charged the fortified Alhondiga de Granaditas, setting fire to it and burning the Spaniards who were holding the fort. There is a giant statue, El Pipila, on top of one of the hills overlooking the city. You can get there by taking the funicular for a few pesos. The week that we were in town, the funicular was down, so we walked up the hill. It's a bit of a hike, but the views are worth it.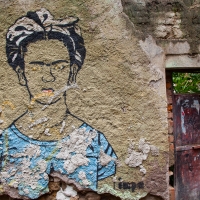 Another famous resident, is Diego Rivera. He was born and lived in Guanajuato until he moved to Mexico City as an adult. His family house is now museum with a nice collection of his early works, including his cubist work, which we had never seen before. You can really see the influence of Piccasso and George Braques in Rivera's early pieces exhibited at Museo Casa Diego Rivera.
There is a very pretty, tree-covered square, Jardin de la Union, which is surrounded by hotels and restaurants. They are bit expensive, but the trees and the awnings of the restaurants provided a great cover for us one day when we were caught in a torrential downpour. We ducked into a cafe and had a couple of beers while waiting for the rain to stop.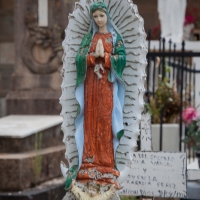 One of the strangest places we visited was the Mummy Museum. For some reason, this is one of the most famous attractions in the city. It's creepy. I thought it was, Matt seemed to think that it was just funny. It's a long, dark hallway, divided into a few different rooms on the backside of the main cemetery in town. The mummies are not wrapped like Egyptian mummies, rather they are people who were entombed in mausoleums in the cemetery. The weather conditions were such that their bodies were preserved or mummified rather than rotted away. They bodies are now on display in this museum. There is some information about who they were – not names, but ages, occupations, if known, method of death, etc. I kept asking why. Why display them like this? And why is this one of the most famous things about this beautiful city?
There is also the beautiful cathedral facing Plaza de la Paz or Plaza Mayor. This church is the main basilica of Guanajuato. The inside is impressive with lots of gilded gold, crystal chandeliers, and painted details. Just outside is a place to get delicious ice cream.
Matt and I walked many miles the week that we were in Guanajuato. It was wonderful to wander the narrow passageways and discover the pretty little plazas, houses, and churches that fill this wonderful little city.
We have a relatively large gallery below, but we both like Guanajuato quite a bit! Please take a look, and feel free to comment.