Photokina 2016
Photokina is a large photography trade show held once every two years in Cologne Germany. We spent six days exploring, playing with new gear, seeing new software, and making new friends with some great photographers. Here are some highlights.
This post is a bit more product oriented than we normally get, as we were attending a trade show. Stay tuned for future posts when we get back to travel experiences and pictures!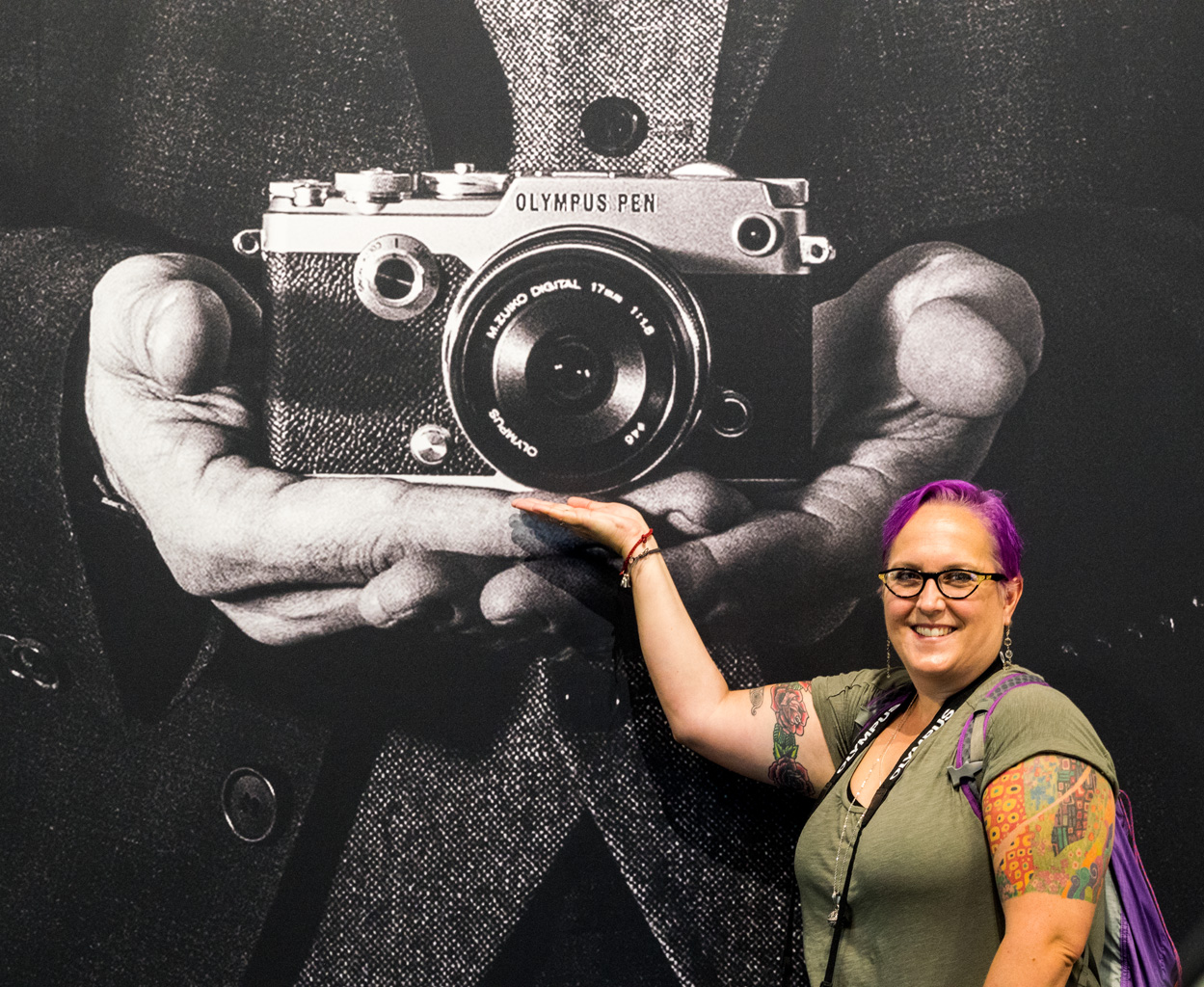 New Cameras at Photokina
We got to test new, just released, and even pre-release cameras at Photokina. We took advantage of some vendors having free lending programs, and tried out some gear. Neeley found the new Olympus PenF to be quite fun to use, borrowing it twice during our time at the show. The PenF is the flagship of the Olympus PEN line, having all the features of our current E-M1 cameras, but adding a dial on the front so that you can add filters to the generated JPG's. The style is more like a rangefinder camera, a smaller body with no mirror bump in the middle and the viewfinder off to the left side. The handling is just a bit different with these design changes, and Neeley liked it quite a bit. (Neeley wants one for Christmas.)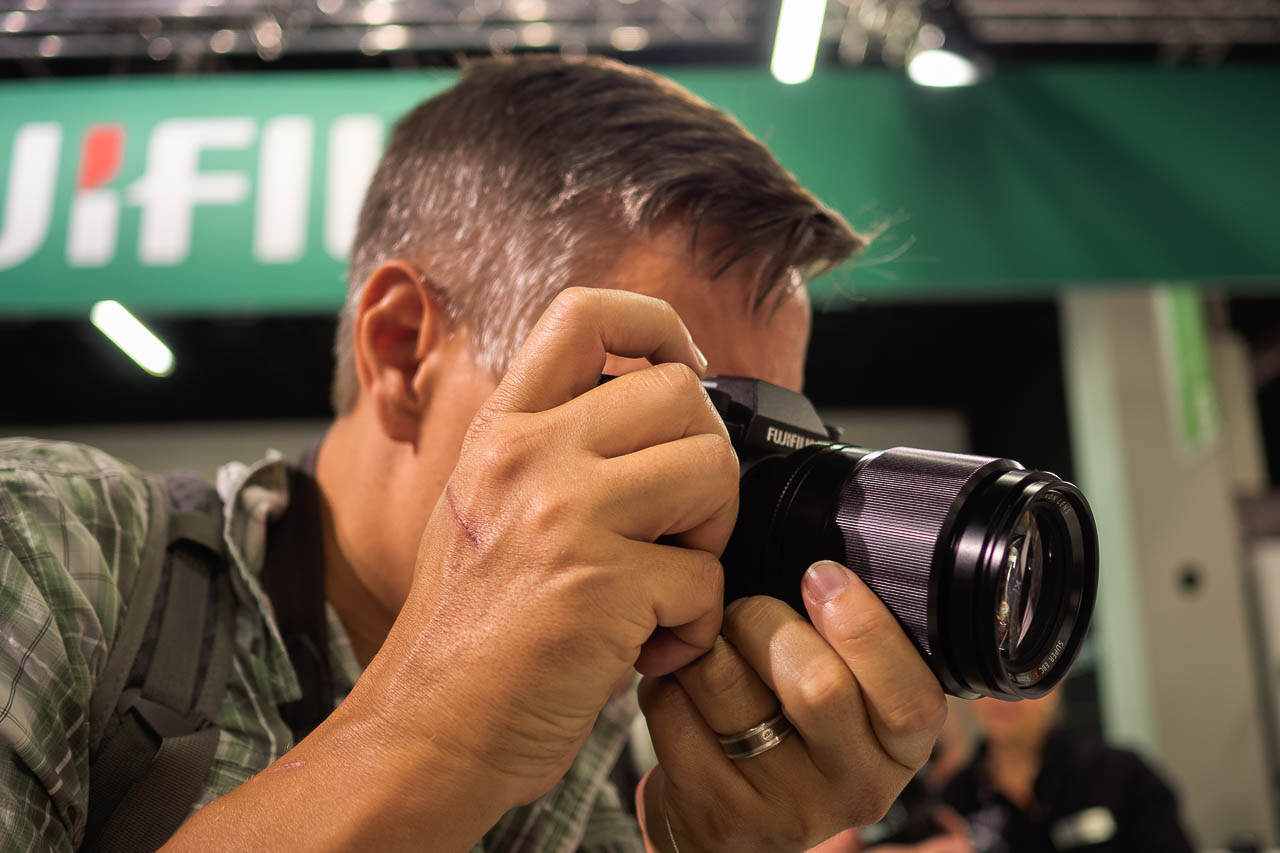 We tested a couple FujiFilm's cameras, the X-T2, and X-Pro2. We both liked the X-T2, and wanted to borrow it to see how the handling ergonomics would be with use, but FujiFilm was out of lending stock each time we tried to borrow one. Instead, we borrowed the X-Pro2, a rangefinder styled camera with a hybrid optical/electronic viewfinder. We had trouble adapting to the way the optical viewfinder worked with overlays, causing us to fight with the system instead of just shooting. The X-Pro2 has a pure electronic view-finder, but it doesn't look as nice as the X-T2. The menu system was also quite frustrating to use, taking a good couple of minutes to figure out how to format a new SDcard, and longer to figure out how to adjust buttons for back-button focus. At the end of the lending period we both wished we could have tried the X-T2 instead. Hopefully we will get a chance to try the X-T2 again at some point.
Over at the Sony booth I tried out the Sony A7RII, a full frame mirrorless camera. The A7 series is a great compromise of body weight and size, providing a full frame sensor installed into a tiny camera body. Unfortunately, a full frame 35mm sensor size also means full frame, and heavy, lenses to mount. The body may be nice and compact, but with an installed f2.8 zoom you negate much of the weight and size benefits of the body. Sadly, we didn't get to borrow one, so I can't report on how it handled.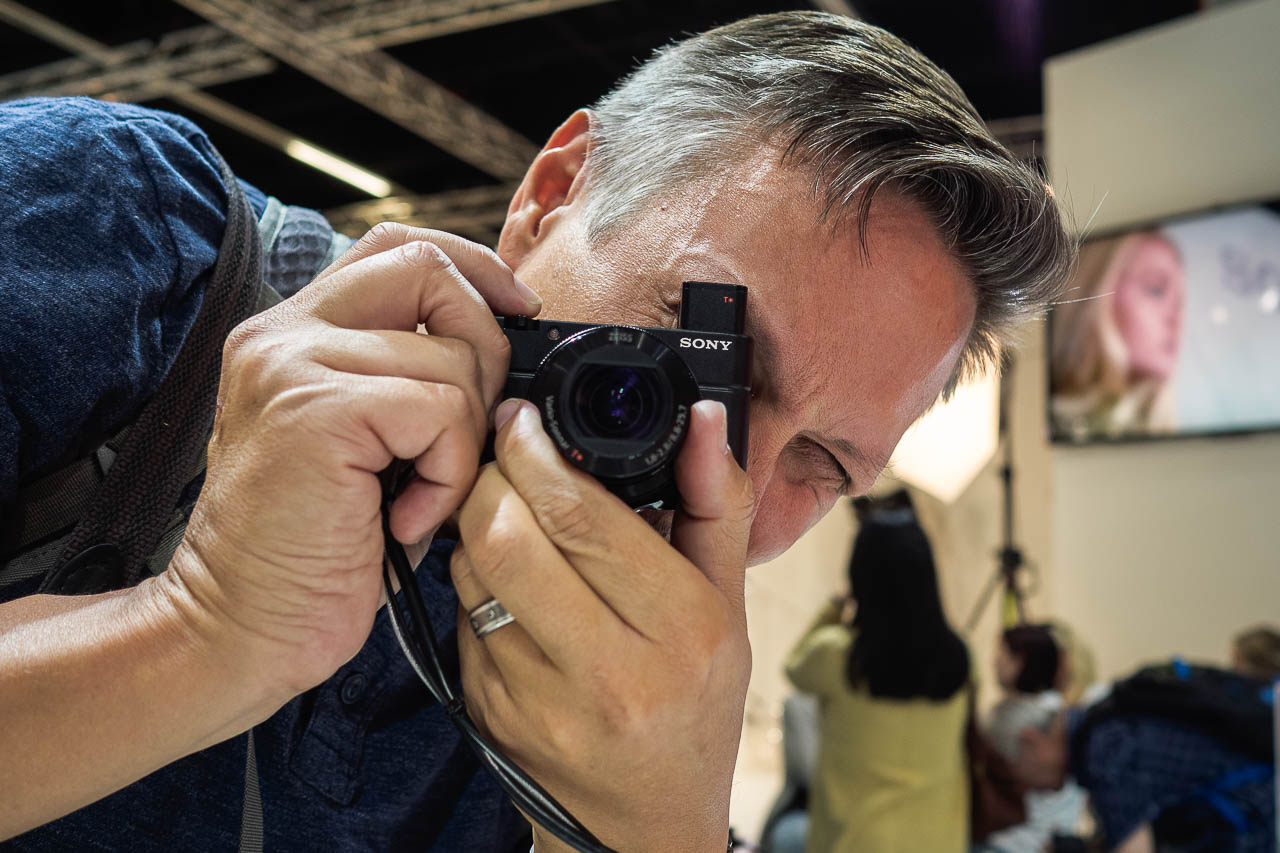 Another Sony I tried was the RX100 IV "enthusiast" point and shoot camera. It is about the size of a pack of cigarettes (or the size of the old ELPH line), a 1-inch sized sensor, a non-removable zoom lens, and very light. After a little bit of playing around with it, I can see this as something I would like to have. The new Panasonic LX10/LX15 looked nice also, but the lack of a viewfinder would mean constant reading glasses for me to use, versus the diopter adjustment available in viewfinders, something I'm still resisting. In the week after Photokina Sony released an updated version, the RX100 V.
After looking at the tiny Sony, Neeley discovered, and drooled over, the new Hasselblad X1D mirrorless medium format camera. The X1D has fifty-megapixel resolution, with a fast, smart phone like interface on the back screen. Physical handling is nice, and the camera seemed to weigh about the same as a full frame DSLR.
We also played with the Hasselblad true-zoom camera attachment for the Moto-Z phone, a nifty way to get a point and shoot camera attached to a smartphone. The attachment mounts on the back of the phone, and provide a 10x optical zoom camera that interfaces directly to your phone. Quality should be about equal to your cell phone, but a much nicer lens attached to it. The people at the Hasselblad booth were incredibly nice, allowing us to handle and try out both the large medium format kit, and the smart phone.
Neeley also discovered the DXOne Camera, which is almost the opposite of the Hasselblad true-zoom. The DXOne has a large 1- inch sensor (same size as the Sony RX100 IV), but just a fixed length lens with no zoom range. It mounts directly to your IPhone via the lightning port, and gives you a 33mm effective view. The unit is tiny, yes I'm mentioning this a second time, a little smaller than a GoPro camera.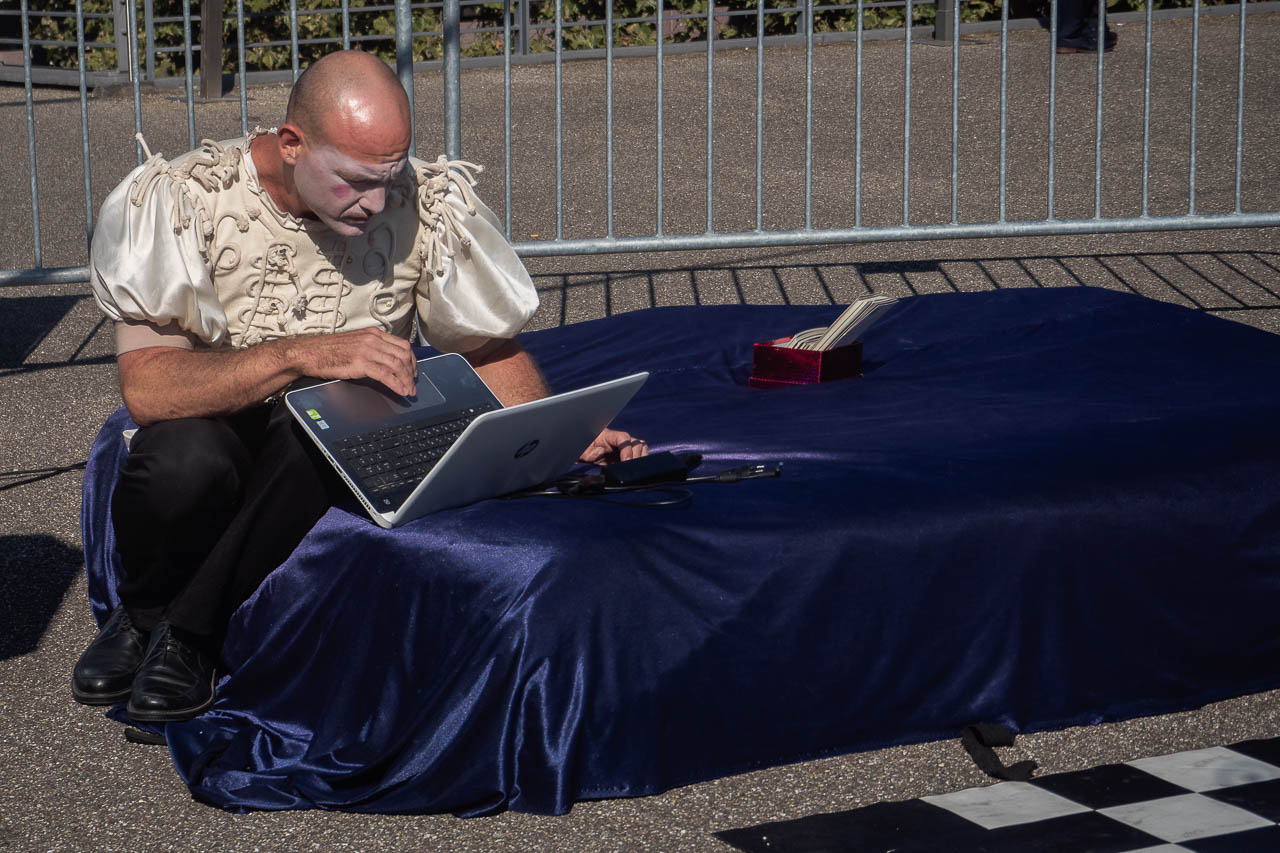 Phone Apps and Software
Software vendors were out, and we got a chance to talk to some of them. One was Fripito, a company making downloadable photography guides for different locations around the world. They provide guides on your phone with hints and specific information for photographers. Each guide provides sample pictures, GPS coordinates for where to get shots, and additional travel information. Much like printed travel guides, but with specific information for photographers, looking for that great shot. Fripito has several guides available now, with more planned.
Photo Pills provides a phone application that aims to be a massive photography technical guide on the phone. It can plot the sun and moon, not just giving your times with rise and fall, but also using augmented reality on your phone showing you exactly where they will be. This gives you the ability to plan shots with them in certain locations easily. The application also includes other essential data for taking photos.
Not everything was a phone app, we chatted with Excire, who makes a tool to automatically scan your Lightroom catalog of images and add keywords to all your images. Keywording my collection of photos has always been something I was going to work on "tomorrow", this may be the catalyst I need. They have a free trial version on the website.
Accessories
Accessory vendors were everywhere, tripods, lights, printers, scanners, action cameras, and drones. I didn't realize how many companies made action cameras and drones, we saw dozens of them.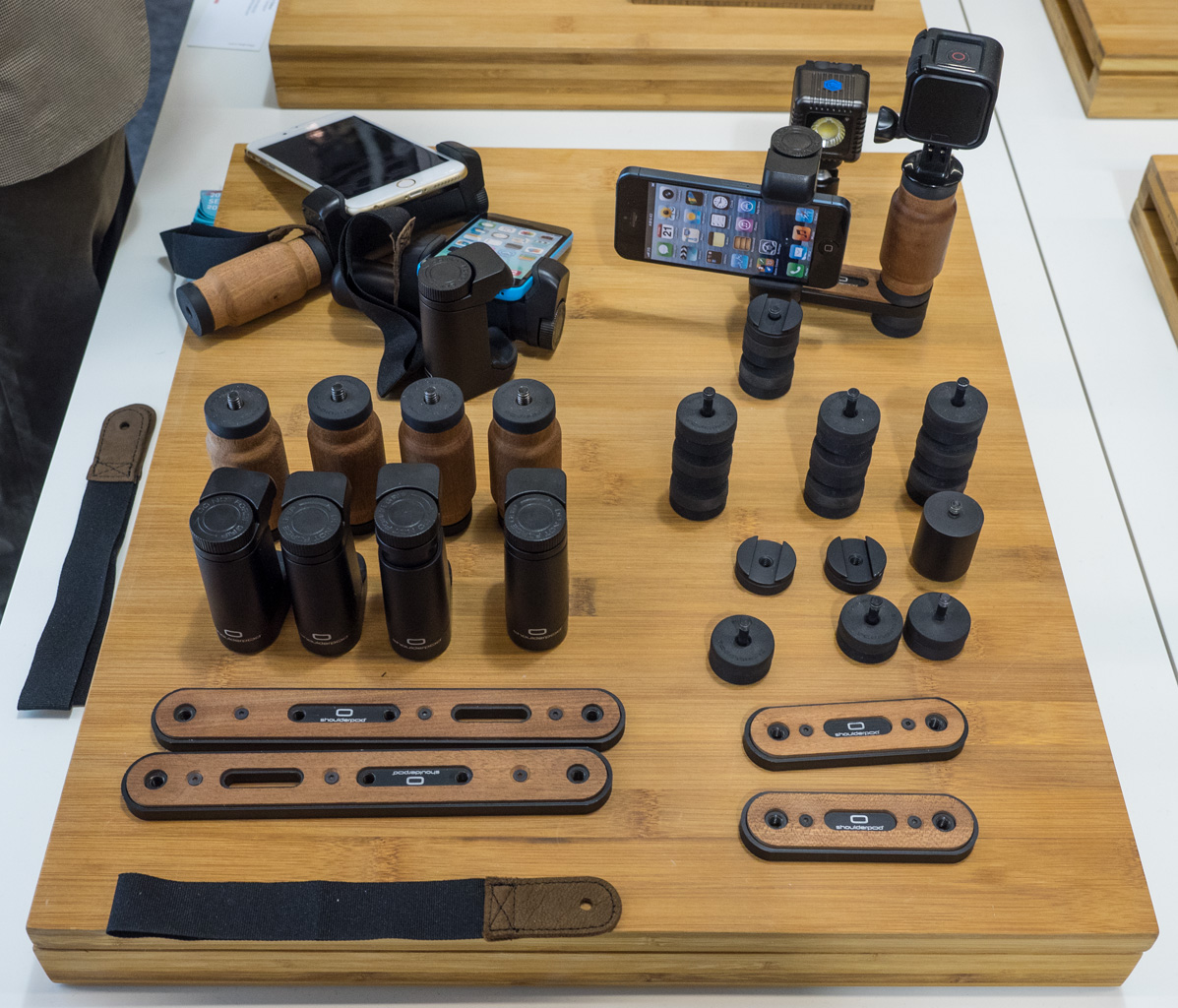 One useful accessory we found, was a beautiful handheld stabilizer from ShoulderPod. It is a modular unit that is a wooden handle, that screws into a mobile phone clamp. You can expand the basic unit with a small or large plate, allowing you to mount additional lights or microphones. Neeley was trying to figure out how to order one before our trip to Paris, but Enrique at ShoulderPod was kind enough to provide us with a couple of samples to play with. Thank you!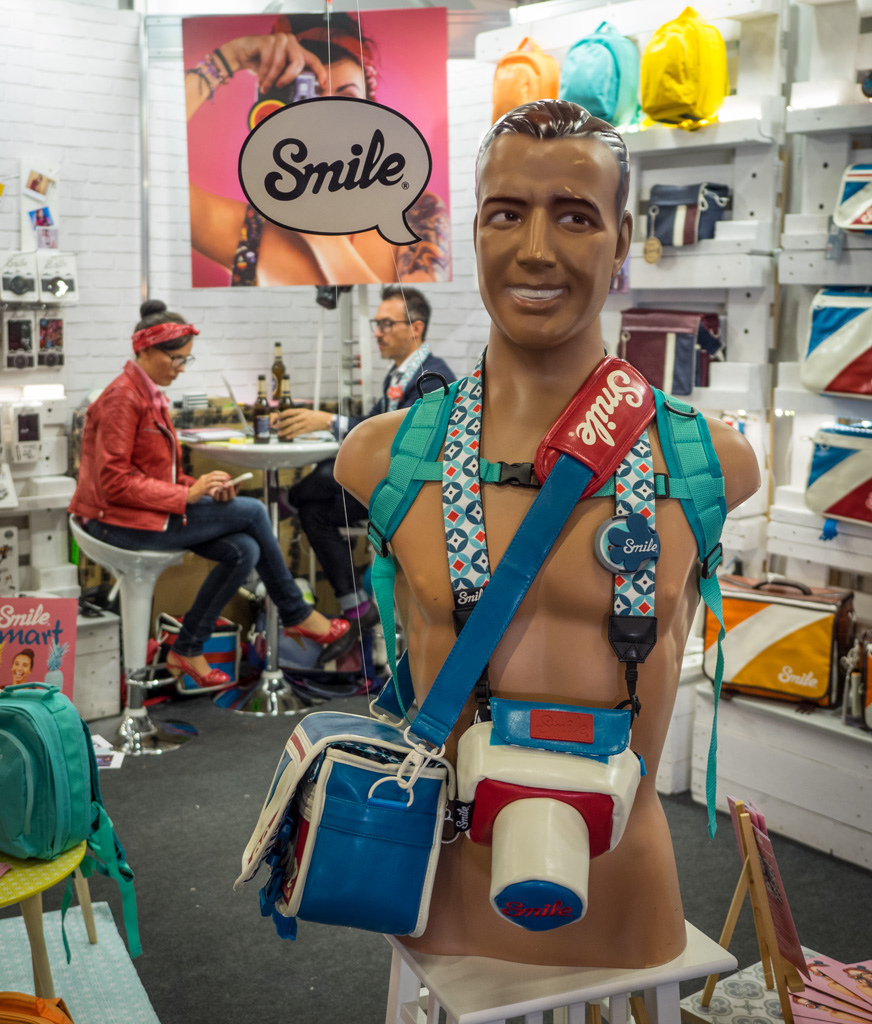 In a theme of beautiful design, we were excited to see the gear from Smile Photo a company from Barcelona that makes bright colorful bags and some fun camera straps. Everyone makes black bags, or office bags, but sometimes you want a fun camera bag. They were still setting up US distribution, but we hope they get it nailed down.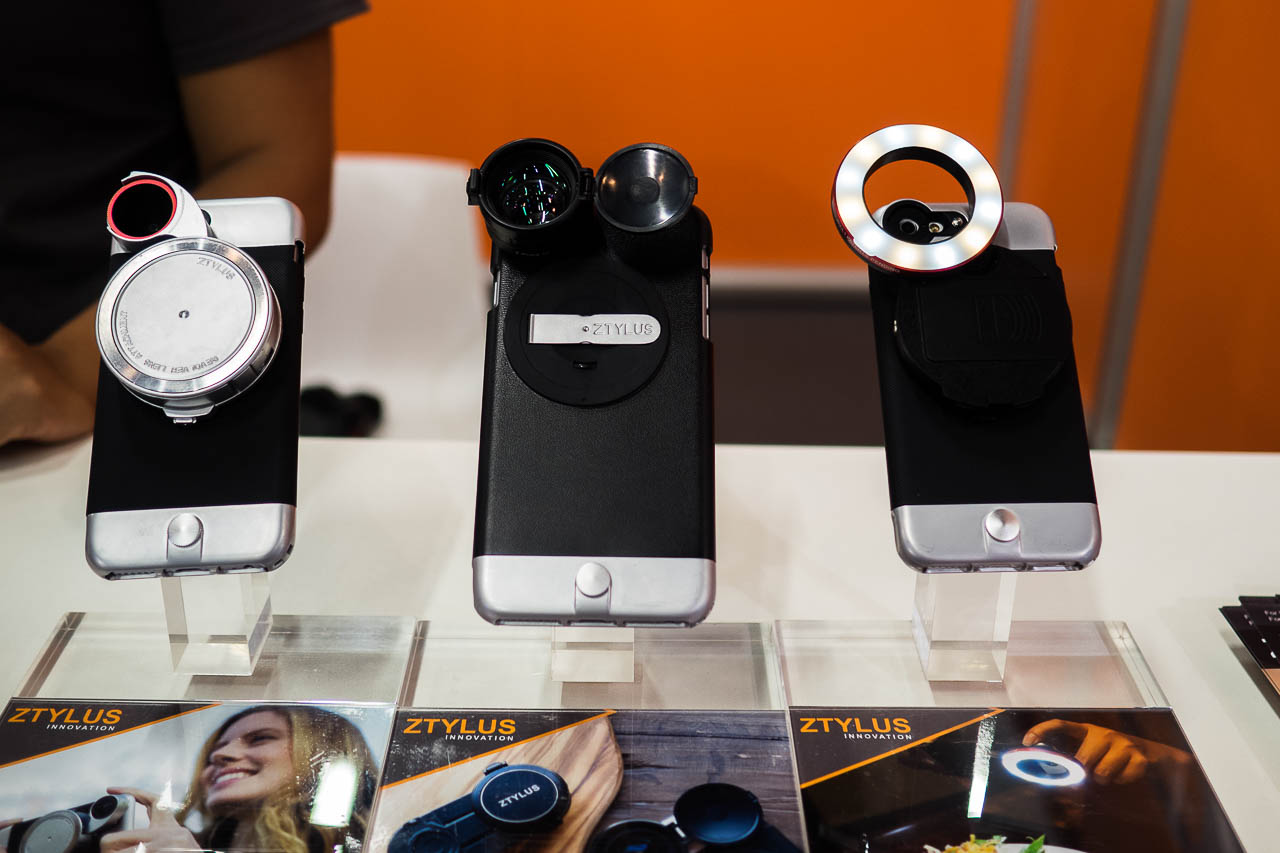 Neeley has been experimenting with cell phone photography, and we found many clip-on lens kits used to provide wide angle, macro, or telephoto options, but the Ztylus Revolver Kit provided a great way to get all the lens options in an integrated holder that mounted to a camera case. If we had Galaxy S7's we would have purchased one at the show. The lenses are in small round holder that mounts onto the back of the custom case, protecting them when not in use. When you want to use one, the holder snaps onto the phone case, and the lens flips out. The website has better pictures, check it out.
We had a great discussion with the guys at Hoodman about trying to find an eyecup/mount combo that would fit our Olympus E-M1 cameras. They don't currently have an Olympus mount, but did hook us up with an eyecup so we could try to rig something together. They are considering 3D printed on demand mounts, so we may have an Olympus eyecup soon.
Film's Not Dead
And lastly we need to talk about film. Neeley used to shoot film before we started our travels, and misses it sometimes. I'm happy with digital. However, this was a photography tradeshow, and we stopped in at Rollei to see infrared film, and other films they produce. Neeley traded some stories with the people at the booth and is still trying to figure out how to carry a professional dark room on future travels.
As the show wound down on the last day we chatted with the Impossible Project people. They make instant film that you can use in their new I-1 Instant, or older Polaroid cameras. They were incredibly kind and hooked us up with a Polaroid camera, and some of their instant film! Neeley has been ecstatic about shooting film, and will be again shortly. Thanks a lot guys!
Conclusion
After spending six days at the trade show, we were tired, and our feet hurt, but we had a great time, and made a wish-list that's longer than it should be. Neeley's already making plans to come back in two years. Maybe we will see you there.
-Matt (Photokina, Cologne, Germany, 20-25 September 2016)
(Disclosure: except for ShoulderPod, Hoodman, and Impossible Project providing us with some sample gear, this entire trip and trade show was paid out of pocket)