Fifteen hundred miles and we made it! We had a few hiccups along the way, but Neeley and I have just spent the past week decompressing and we are slowly acclimating to a different lifestyle.
While we finished prepping for our departure, we crashed at the home of our gracious friends, Frances and Jonathan, who live in Berkeley. The truck needed a bit of work – oil change, fluid flush, etc. We bought a spare five-gallon gas can and water can just in case of emergencies. Then we had to prep our laptops, put together first aid and medical supplies, and most importantly, catch up on sleep. The two weeks prior to moving out were non-stop and we were exhausted.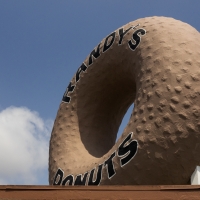 At last, and only two days late, on Friday the 8th, we left the San Francisco Bay Area. We drove straight through to Santa Monica to spend the first night with our friend Magnus. We wanted to spend a couple of days in LA, but since we were already two days behind, we only had time to grab a quick breakfast before hitting the road again. We did stop at the famous Randy's Donuts on our way out of town. The plan was to stay near the border in Chula Vista, CA, so we could cross over early in the morning.
Saturday evening was set aside to go over our checklist, review all the paperwork required to bring our truck into Mexico, copy our passports, buy Mexican car insurance, fill up our water tank and our spare gas tank, etc. Insurance is easy to get online and is necessary if driving around Mexico as US insurance companies don't offer coverage. However, just as Matt opened his laptop to purchase the insurance, his laptop refused to boot and he got an error message that it can't find the drive. After spending time turning it off and on again (about a dozen times), looking for and trying possible fixes, all while cursing under his breath, we realize that it is already 8:30pm and the closest Best Buy would close in 30 minutes. We have an early morning border crossing and Matt doesn't have a working laptop. Luckily, this Best Buy had the laptop Matt wanted – Yoga 3 Pro. We speed over, purchased the laptop, and then spend the next 4 hours trying to get as much stuffed copied over to it while we still had high speed internet access in the hotel.
On Sunday, with only a little sleep, we pulled out of the hotel and followed the signs to the border crossing. We are fairly well-traveled, having crossed international borders on numerous occasions, so we were pretty confident that this would be easy. It's just Mexico, right? We had our passports and vehicle paperwork ready as we drove up to the gate to cross over to Tijuana.
Mexico uses a random search system for customs in that you step up to a button, push it, and it's either green or red. If it's green, you pass through. If it's red, you stop and they inspect your luggage. Of course, we triggered the red light. A first for us, so we didn't know exactly what to expect with the vehicle full of stuff. It turned out that Matt had to drive through the biggest x-ray machine we had ever seen. We pulled the car up in a line with a couple others, Neeley got out to walk across the border and Matt drove through the giant machine. Then we sat and waited. We had no idea what was going on, but the others in line, including Mexicans, felt the same, so we all just sat patiently. We figured someone would eventually tell us we could leave. After about 30 minutes of waiting, that is exactly what happened.
We drove on through the border, still clutching our passports, searching for immigration or someplace to show someone our passport and purchase our visas and vehicle permit. But once we drove out of the parking lot for the giant x-ray, we were on the main road without a place to turn around and ask. About ten miles in, we were worried and confused. We were in a foreign country and no one had even looked at our passports, let alone all of our carefully arranged documentation for our car. In all our preparation, we had forgotten that Mexico has a "free zone" that extends down across the border for a several miles in northern Baja. We knew that we needed a tourist visa for Mexico, because we were planning to go beyond Baja, but we had no idea where to find the correct office. We found a PEMEX gas station that also had a little tourist information area where we were told we could get the paperwork in Ensenada at the port. So, onward we motored!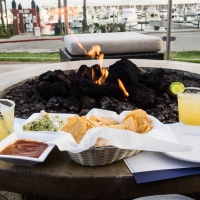 Ensenada was just a little over an hour's drive down the coast. After stopping at another tourist information office in Ensenada to get directions, we found the correct immigration office. But it was Sunday and it was not open on Sundays. For several minutes we sat in the car trying to figure what on earth we should do. We knew that the drive to Todos Santos was at least three days. We had a booking on Airbnb and we were on a budget, so extra nights anywhere would cut into that budget. We figured that we had three options: turn around and go through the border again to try to find the immigration office in Tijuana; continue driving and find something in Cabo; stick around and pay for a hotel for the night. Matt suggested a fourth option of panicking, but in the end, we realized that we are treating this like a vacation rather than just a normal day where stuff goes wrong. While on vacation, this would have been a huge disruption. But we are not really on vacation, this was our new normal life, so we booked a hotel room and decided to relax for the evening. We would head to the immigration office first thing in the morning.
We checked into the Hotel Coral, which was a bit over our budget, costing about $120 for the night, but a splurge every once in a while is okay. After a couple of margaritas and guacamole with tortilla chips in front of the fire pit, we were finally starting to relax. Also, it helped that Expedia has pretty good customer service and we were able to move our original booking for that night without any issue.
Early Monday morning, we drove down to the immigration office and after some bad Spanish and traveler's mime, we were able to secure tourist visas and get on the road. We still needed a temporary import license for our truck, but we discovered it is not necessary for Baja, so we will get that later during our travels.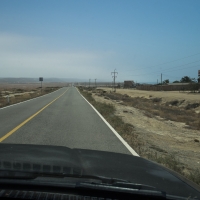 We left Ensenada, heading for the Hotel Mision Catavina in Catavina. It's really the only hotel within a day's drive, so that's where everyone stays. The roads were mostly empty, but only two lanes and without shoulders, so the pace was slow. We learned about "topes" or speed bumps. Mexico has two kinds – "vibradores" which you get as you enter a town telling you to slow down and "topes" which are bigger speed bumps or humps to force you to slow down. Some of the topes are unmarked and some quite large, so we had to really go slowly through each little town. We also encountered three military checkpoints.
The military checkpoints are common and are not really more than the DUI stops we have in the US. You stop, answer some questions about if you are a tourist, where are you going, etc. Once we were asked to step out of the vehicle so that they could look in the back. We smiled, were polite, and we were on our way after a few minutes. The number of stops we encountered may have been higher than normal due to some labor protests that flared up and forced a closure of Highway 1 just two days earlier.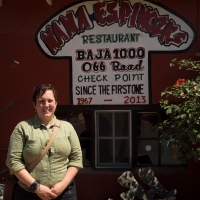 Lunch at Mama Espinozas was necessary. Her chili rellenos are the best that we have ever eaten. Mama's restaurant is also a nice mid-way stop between Ensenada and Hotel Mision Catavina, where we were staying that night. We did not get to meet Mama. She is 103 and was back at the house resting. We did meet a lovely couple who live most of the year down in Cabo. They gave us great tips for diving, snorkeling, and paddle boarding lessons. Then they gave Neeley some lower dosage Dramamine because she gets seasick while snorkeling.
Hotel Mision Catavina is a quiet little hotel in the middle of the desert. It was originally a mission hotel that was built when the highway down Baja was upgraded in the earlier 1970s. If you are traveling through and want something serene, this is a wonderful hotel. There is a great pool, game room, and a little bar. The food, however, was not very good.
Tuesday we continued down the coast with Neeley driving, hitting more topes, and three more military checkpoints. We stopped to get gas and grab some breakfast at a little grocery store. The road was pretty much of the same desert until we passed into the state of Baja Sur. The scenery became a little more green and the roads were significantly better. Our second night was in the seaside town of Loreto. We stayed at the Hotel Desert Inn, which was not really in the desert, but right on the beach, at the end of the town's malecon. It's a really lovely hotel and probably even nicer during the season. We were the only ones staying there, so it was a bit eerie. We recommend the breakfasts. The woman cooking does a wonderful job. The salsa on the huevos rancheros gave Neeley hiccups because it was so spicy. Matt ate extra.
The town of Loreto is on the Gulf of California/Sea of Cortez side of Baja. The water is warmer and much calmer. We made a note to possibly head back for a visit. There are many beautiful empty beaches along the coast heading south between Loreto and La Paz. Some with places to park RVs, with palapa huts, and beautiful turquoise waters.
Our final day of driving was relatively easy. The roads are wide and still fairly empty. We arrived in Todos Santos, on the Pacific side about 2 hours earlier than expected. Todos Santos is off of Highway 19, about 45 miles north of Cabo San Lucas. This is where we are spending our first month. We have a great little apartment that we found on Airbnb where we can relax and explore the area.