Oaxaca has been on the top of my places to visit list for a long time. While in Guanajuato, we learned that the second biggest festival in Oaxaca was going to be taking place towards the end of July. So we arranged our schedule to arrive just before the start of the Guelaguetza.
The Guelaguetza is a festival at which Oaxaca celebrates everything that makes Oaxaca unique in Mexico. The indigenous people put together dances celebrating their cultures and they come to the city of Oaxaca to show off their culture, traditional costumes, native foods, arts, crafts and, of course, their dancing.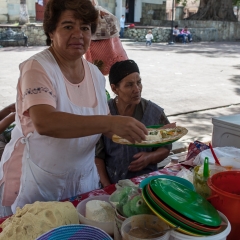 Over 50% of Oaxaca's population is indigenous people as compared to a little over 20% for the rest of Mexico. Additionally, Oaxaca has the largest variety of indigenous cultures. Where the rest of Mexico is largely Mayan, there are many indigenous groups in Oaxaca. The two largest being Mixtec (or Aztec) and Zapotec. These groups are very proud of their cultures and traditions, something that you see every day in Oaxaca. The name of the festival comes from the Zapotec language and roughly translates to the sharing of gifts and cultures.
The biggest event of the whole festival is the dance performances that take place at a stadium up on the hill above the town. This stadium was built in the 1970s just for this particular event. The dance festival or Los Lunes del Cerro (The Mondays on the hill), as it is also called, is held on the two Mondays following July 17. Twice each Monday, dance troupes from all over Oaxaca perform a local dance that celebrates their particular tribe's culture.
We were able to secure free seats for one of these 4-hour long performances by joining a local family in the kilometer-long line. You can purchase seats, but they are quite expensive. If you get in line early enough, 3 hours or so before the performance, you can get in for free. We lucked out and were adopted by a local family who had sent a daughter earlier in the day to hold places in line, and allowed us to jump the queue.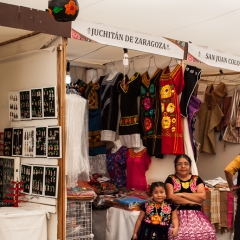 Oaxaca itself is a beautiful city filled with delicious restaurants, fantastic art galleries, churches, and shops. We spent a fair amount of time wandering the streets and enjoying the festival atmosphere. Many Oaxacans take time off of work during the festival and everyone was in a wonderful mood. Two of our favorite things about the festival were the numerous street vendors selling all sorts of beautiful arts and crafts or food from their regions of Oaxaca. I couldn't resist, I bought a couple of hand-embroidered shirts and gifts.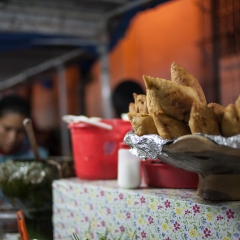 The second thing that we enjoyed was the food and drink. Oaxaca has a fantastic food culture, from the more exotic foods, such as grasshoppers (which we tried and enjoyed) and ant eggs (we did not try), to wonderful farm produce, such as squash blossoms and fresh cheeses. My favorite meal while in Oaxaca was a quesadilla of Oaxacan string cheese, which is a bit tangy, with squash blossoms on a fresh tortilla with some fresh salsa. It was simple, but so delicious.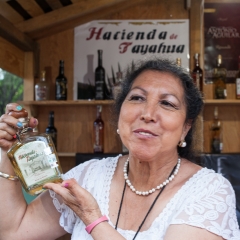 Of course, it wouldn't be a post about food without mentioning alcohol and as luck would have it, Oaxaca was also hosting a Mezcal Festival the same week. It opened at around 1 in the afternoon and for 45 pesos, you could wander around and sample from any of, or all of, the roughly 60 mezcal vendors. They had food stalls, live bands, dancers, and mezcal. We lucked out and our friends from As We Go South, Rosie and Garrett, were also in town and enjoying the festival. We also made some new friends, Simon and Nia. They live in Hong Kong and were traveling in Mexico and down into Central America. New friends and newer friends make a mezcal festival even more fun. We tasted a large number of offerings. After a few hours in the off and on again rain and chilly winds, we decided to head to the night market to grab some street food. I had a second quesadilla with Oaxacan cheese and squash blossoms to soak up all the mezcal that I had been drinking. Matt ordered several items and claimed that they were all delicious!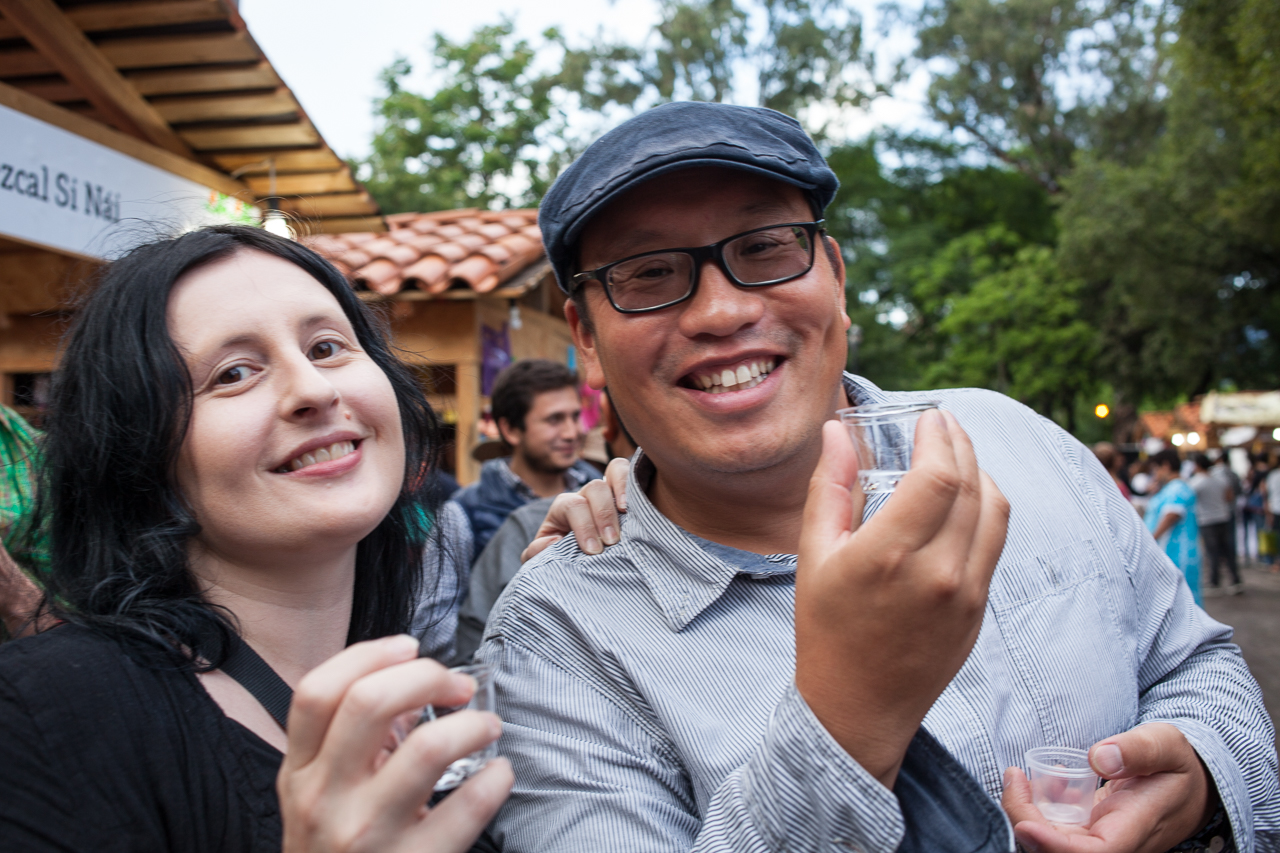 We were only in Oaxaca for four days, but we enjoyed every bit of it and know that we will go back for the Dia de los Muertos some November soon. Enjoy the extra large gallery!
-Neeley(visiting July 17-22)