I will admit that everything that I knew about Mazatlán I learned from watching the Love Boat. In planning our trip from La Paz to Yelapa (more about Yelapa in another post), we decided to stay just a couple of nights in Mazatlán. Originally it was going to be one night, but I read a few comments on a blog about the pretty downtown with a square and a church, so we decided to stay for two nights instead so we could visit the sights. We stayed for three nights because I fell for Mazatlán.
Mazatlán, and by this I mean, the area known as Centro or Centro Historico, is a beautiful city. It has one of the longest malecóns in the world that is about 21 km long. The malecón, which is a public walkway along the shore, is the one of the main gathering points for locals all year round, especially during the heat of summer where the breeze from the ocean keeps the temperatures tolerable. Our hotel, the Freeman Posada, was right on the southern end of the malecón, on Paseo Olas Atlas. This is the original part of the malecón that was developed in the early 1800s as a dike to keep the water from flooding into the city. Within minutes of arriving at our hotel, we discovered live music being played outside along the water. We started to suspect that we were in a special place.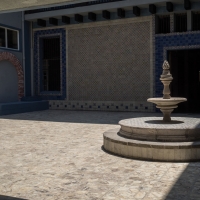 Down the street from our hotel was the Hotel Belmar, where, in 1923, photographers Edward Weston and Tina Modotti continued their love affair. And Anais Nin and Allan Ginsburg passed through in 1951, though not at the same time. Herman Melville was in Mazatlán for a few days in 1844, when he was a young man in the navy and Jack Kerourac swam there in 1960 and even wrote about it in his book the Lonesome Traveler.
"At Mazatlán at dusk we stopped for awhile for a swim in our underwear in that magnificent surf…" – Jack Kerourac
Matt and I did not swim while in town, but we did wander the romantic streets, passing the ghosts of the artists and writers who had fallen in love with Mazatlán before us. And like Nin, I too loved the "pink and turquoise houses, the green shutters" wrote Anais Nin, from her personal diary.
Mazatlán was very hot and sticky, so we did not explore as much as we wanted. In the heat we moved slowly and stopped to rest on park benches looking for cool shade. The heat index was 113 – 117 all three days. We stuck to the streets in old town, never wandering too far from the malecón so when there was a breeze from the ocean, we could catch it.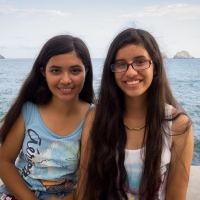 Our short visit was made more wonderful by our encounters with the warm and friendly people of Mazatlán. We met several students who were assigned to spend 15 to 20 minutes speaking English with native English speakers. Then they had to take a photo with the lucky English speakers. We met Nicole, Paulina, and Daniela this way. Their English was quite good and certainly far better than our Spanish.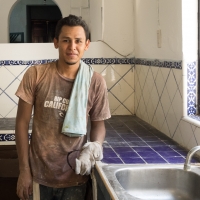 We also met Francisco, who was busy restoring a home that was built 159 years ago. He saw us with our cameras as we were walking down the street and let us inside the home. His job is to restore and repair the brick. Others have worked on the wood beams, including painting them as they were originally, darkly stained with little gold stars down the center of each beam. There was some furniture in the house, left from the original owners, also with a dark stain and intricately carved details.
And on our last night, we met the lead singer, Carlos, of the band Les Cryps, who despite their goth-like name, played 50s rock and roll and 60s surf music. I asked Carlos, who was about 19, why that kind of music, and he said that one day he heard it on the radio and he decided "that is what I want to play". They played it well too, keeping a group of all ages tapping and singing along at La Copa de Leche bar on Olas Altas, just down the street from our hotel.
About Mazatlán, Ed Weston said "We found life both gay and sad, but always life–" The only sadness I felt in Mazatlán was our departure. We will be back for more.