After leaving Mazatlan, Neeley and I made our way to southern Puerto Vallarta. Our plan was to spend one night in a hotel so we could pack everything we needed into our small backpacks and then catch a water taxi from Boca de Tomaltan to Yelapa the following morning.
The five-hour drive to Puerto Vallarta was quite nice. It was even nicer when we discovered the banana bread sellers on the side of he road in San Blas where we stopped for lunch.
We made it to Puerto Vallarta in the early evening. Unfortunately, the hotel was completely forgettable. Luckily the staff was wonderful and we were only staying for one night.
In the morning we drove fifteen minutes from our hotel to the small village of Boca de Tomaltan where we arranged to park our car and take a water taxi to Yelapa. Yelapa is accessible via vehicles, but takes about four hours, versus twenty minutes via water taxi from Boca, or forty-five minutes from Puerto Vallarta.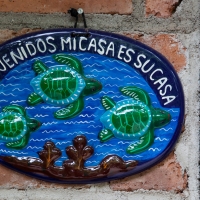 We had an apartment reserved in Yelapa and the person we were working with to get to the apartment in Yelapa had secured a parking spot for us in Boca. With a little spotty Spanish and some questions around town (it was a very small town) we were able to figure out where to park our truck, and grabbed our backpacks and camera gear to catch the water taxi.
The water taxi is 70 pesos a person from Boca to Yelapa and departs roughly on the hour, if they have enough passengers. So if you planning this trip, don't assume that it runs on regular schedule, no matter what people tell you. The 10am boat didn't have anyone else, so we caught an 11am boat that had about dozen people. It made a handful of stops on the way, and we were were dropped off at Yelapa. The ride is on a panga boat, a long-hulled, efficiently-designed boat that drove right up onto the sand for us to get off (with feet in the water).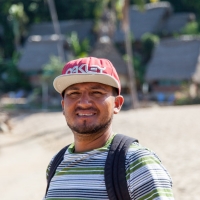 We met up with Chopo, our local contact when we landed. He showed us to the apartment that was only about 200 feet from the beach.
We spent the rest of the day sitting on the beach, tanning/burning, and sampling the passion fruit margaritas that are a local favorite. It was a very hard day.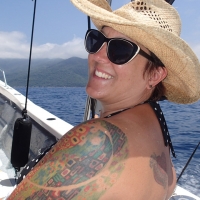 The next day we went snorkeling at the Marieta Islands. We went out with Chopo on his fishing boat with another couple, Mark and Alejandra. As we motored out to the islands, Chopo caught a couple skipjack tuna, which he made into ceviche for us for lunch. We snorkeled around one of the smaller islands, had lunch, and then moved on to "hidden beach". Hidden Beach is a beach that you swim to, that is inside a donut shaped island. The donut shape was not natural. The shape and the beach were created by the Mexican government that used to test explosives around these islands in the early 1900s.
Our third day was spent wandering into the village of Yelapa. The village is up the river from the beach. Most of the residents live in the jungle along the river that provides fresh water and cool breezes during the hot summer months. In late June, it's hot and humid and something to take into consideration if you plan on visiting during the summer. The upside is that this time of year is off-season and even more quiet than normal making this an incredibly relaxing place to visit.
We reluctantly departed Yelapa on the fourth day, stopping in Puerto Vallarta again for a couple days to catch up with work and plan our next stops in Tequila, Guanajuato, and San Miguel de Allende.
Pictures below, still no video (I have a short video from snorkeling of two moray eels).
-Matt