We woke up early in Dresden so that we could catch our short, two-hour long train ride to Prague. Prague was going to be a new experience for both of us, and we were looking forward to it. Years ago we discussed visiting, but we never managed to make the trip. Since then Prague has gained a reputation as a major tourist destination, so we were wondering what type of impact that would have on our experience.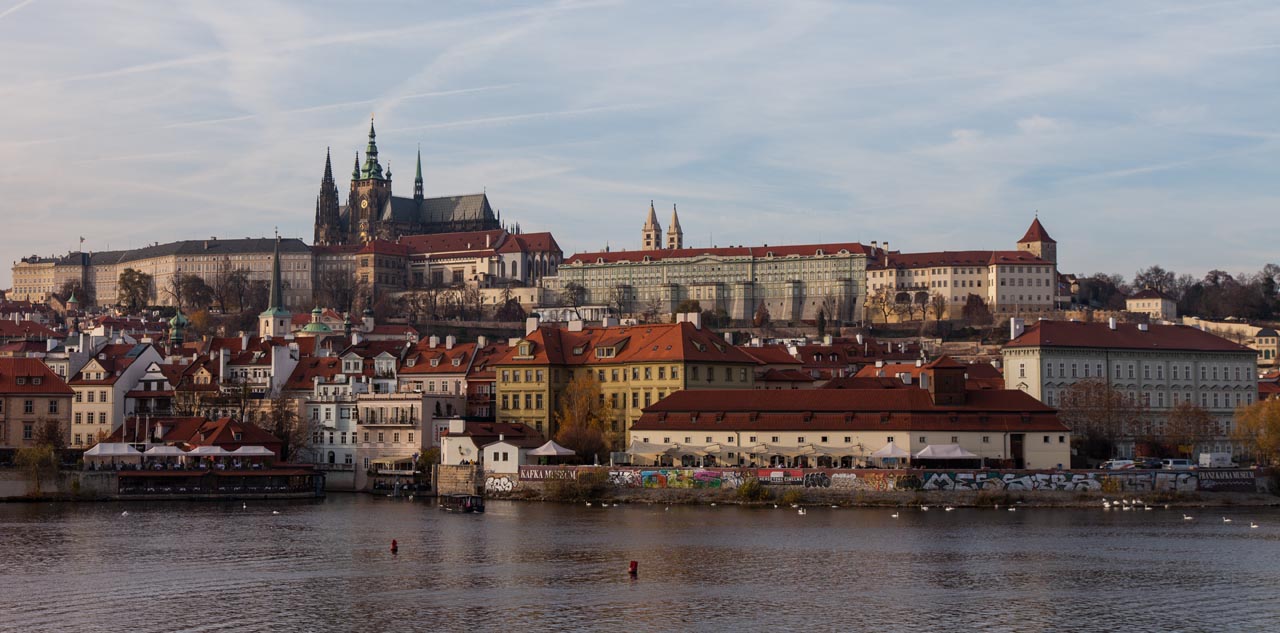 Arriving by train is easy as the station is about 2 km from Old Town. You can either walk into town or take an inexpensive taxi. Neeley found a nice apartment via Airbnb that was just east of Old Town in the Praha 1 zone, and an easy 10 minute walk to the town square.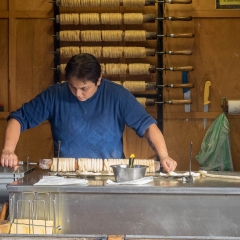 In search of a grocery store to stock up on food for breakfasts and snacks, we found a shopping mall area nearby called Palladium.
Outside the shopping mall was a food and wine festival celebrating Saint Martin's day. This is when the Czech's celebrate the young wines so there were a number of wine makers offering free samples. There was also a great selection of street food vendors, including one selling something that I would become addicted to over the next week, trdelnik. A doughy bread treat, covered in cinnamon and sugar, and cooked over open coals. It tastes similar to fried dough from carnivals, but isn't fried. Over the following week, I ate at least one a day. If you are in Prague, make sure you try them!
The next few days, we explored Prague's Old Town. We went on two free walking tours, one of Old Town and one dedicated to the history and architecture of the Jewish Ghetto. Both were informative and great fun. These free walking tours are common in many of the major European cities and we been trying to take them on the first or second day after arriving in a new town. They are a great way to orient yourself to the new city and learn some of the city's history and get pointers on things to do, see, and where to eat.
Another benefit of the walking tours, is that you get to meet fellow travelers from all over the world. After the tour of Old Town, we grabbed a late lunch at a pub called Atmosphere with a woman who was touring around Eastern Europe . Our tour guide recommended Atmosphere as a great place to grab a cheap and delicious meal and some delicious Czech beer. It was a great way to spend a rainy afternoon. Our guide was right. Atmosphere had great food and beer. We particularly liked the appetizer of homemade potato chips with cheese sauce. It's massive and could feed a small army. It was only day two, but we realized we were going to need to walk a lot more if we kept eating this way in Prague.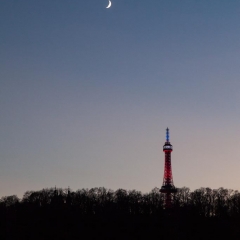 The following day we hiked up to sample beer at the Strahov Monastery, wander around the hillside, and get a nice overview of Prague from the hills across the river. After our tasting, we walked through the park, and I climbed up Prague's smaller version of the Eiffel Tower, Petrin Tower. The views are quite nice, and if you are someone who always looks to climb the highest points in cities, you should do it.
Walking home in the dark, we stopped at a crazy art gallery called the Magic Cave. This is a studio for the artist, Reon, that is turned into a wild gallery. It's fun and cheap and you get free sangria, which we appreciated as it was dark and cold by the time we left this trippy gallery filled with fantastical paintings and sculptures.
We spent most of our days tasting our way through the city and then trying to walk off all the delicious calories we were consuming. We sampled more Czech beer at the Beer Museum, and had a wonderful conversation with a brother and sister from Norway, who were in Prague for a long weekend. Finally towards the end of our trip, we went up to the Prague Castle complex and climbed the many, narrow stairs to the top of the cathedral's bell tower.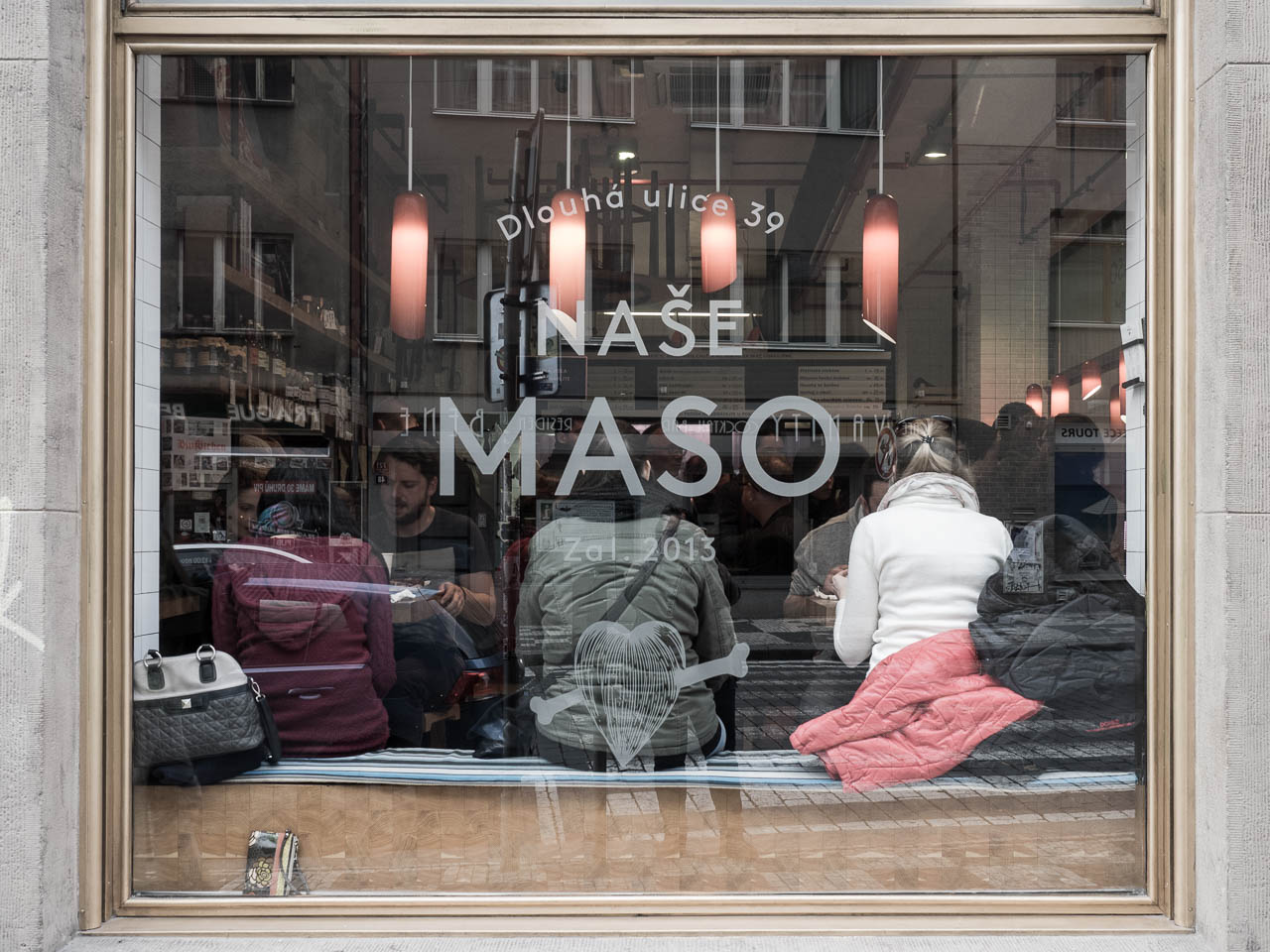 One of our favorite discoveries was that the best butcher shop in Prague was five minutes from our place. Nase Maso is a butcher shop and a small restaurant that will cook some of their meats for you. They also make the best burger in the world there. Neeley would have eaten one every day if we had found this place earlier, unfortunately we only managed to go twice.
On our last full day we discovered the Ameriky Bar, a beautiful Art Nouveau-styled bar, that we wish we had found at the start of the week. It is located in the basement of the Municipal Building, near the Palladium. The bar was not very busy, so we sat and chatted with the friendly bartender. He suggested that we try a cocktail with the Czech liqueur, Becherovka. It was a great suggestion since the drink was delicious and easy for us to recreate. The cocktail is made with simple syrup, fresh lime juice, ice, and Becherovka. Make sure you stop here, have a cocktail, and marvel at the decor. We bought a bottle of Becherovka to take with us.
Leaving the Ameriky Bar, we walked to Wenceslas Square, as it was the Czech Republic's Independence day and the anniversary of the Velvet Revolution. There were a lot of people gathered, many lighting candles to honor those who died in 1969 when the Soviets took control of Czecholosvakia. It was peaceful and low key.
Overall, we really enjoyed Prague. It was a beautiful city filled with many things to see and do. Just walking around and seeing the architecture and art installations was enjoyable. We enjoyed theh food and drink very much. While Prague has a reputation for being overrun with tourists, we found that during the fall/winter time, it was manageable. the exception was Charles Bridge which was mobbed. Prague is a city with a great mix of old and new, and a little bit of fun and crazy. From discussions with locals, I would probably avoid the place in the summer time, where it will be extremely popular with tourists.
As we walked home from Wenceslas Square, I convinced Neeley that we needed to stop at the Atmosphere pub, and eat another serving of homemade chips with cheese sauce.
Matt (travelling from 11-18 Nov 2015)