Naples is a beautiful historical city on the west coast of Italy about 140 miles/225 kilometers south of Rome. When most people think of Naples, they think of Mount Vesuvius, Pompeii, the beautiful churches and museums, and of course the mafia. Matt and I will go back for those things, but today our visit was all about pizza.
Matt and I travel on our stomachs, which is not news to anyone who knows us or who has been reading our blog. We had one last train trip left on our Eurail Pass and decided to take a trip to Naples to eat pizza. I researched the highest rated and most famous pizzerias in Naples and mapped them out. Our plan was simple, we had four hours in Naples to eat as much pizza as we possibly could without dying. We decided to keep it easy and just have margherita pizza, Naples's most famous.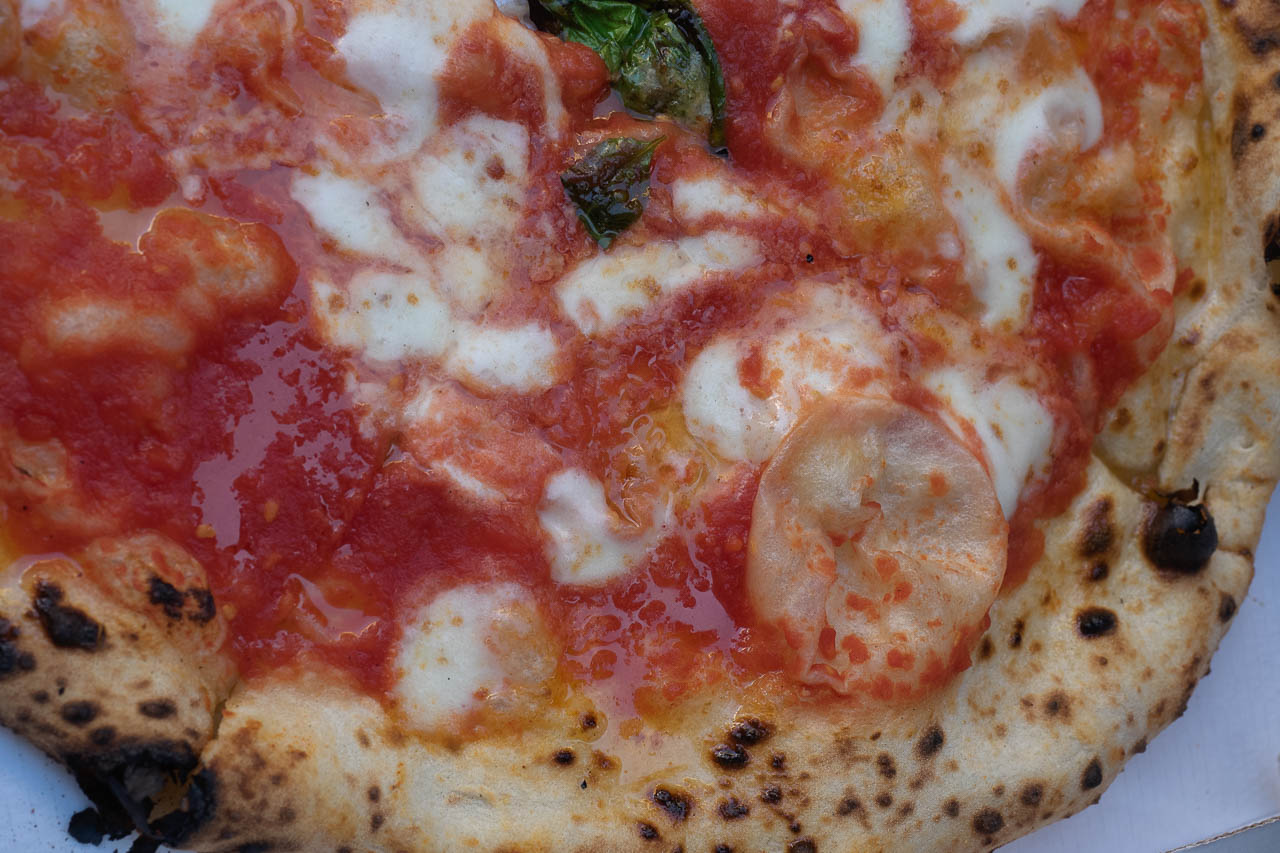 It is long thought that pizza was invented in Naples in 1889 to honor the Queen Consort of Italy, Margherita of Savoy. The inventor was Raffaele Esposito who made a pizza with red sauce, white mozzarella, and green basil, the colors of newly unified Italy's flag. Though certainly flatbread with toppings is not a 19th century invention. Pizza was sold in Italy in markets and bakeries for centuries before 1889. It wasn't until the 1700s that tomato sauce was put on top of pizza because tomatoes are a new world food product that was thought to be poisonous as it is a member of the nightshade family. After 1830s pizzerias become the common. The type of pizza found in pizzerias evolved from being al taglio or by the slice to full round pizzas.
In 1984, The Associazione Verace Pizza Napoletana (True Neapolitan Pizza Association) was founded in with a simple mission: "To promote and protect in Italy and worldwide true Neapolitan pizza." In 2004 this organization began to work with the Italian Agriculture Ministry to present Neapolitan pizza to the European Union as a protected food product similar to Champagne in France and Parmesan cheese in Emiglia Romana in Northern Italy. In December 2009, Neapolitan pizza received its Denominazione d'Origine Controllata or D.O.C.. This means that pizza called Neapolitan pizza, the pizzaolo, or pizza maker, must follow the following guidelines:
1. The dough can only contain Tipo (type) 0 or 00 flour local Neapolitan yeast or brewer's yeast, sea salt, and water. This flour is a higher gluten flour.
2. The oven must be a wood-burning oven and the pizza must be cooked from between 60 to 90 seconds at 458°C or approximately 905°F.
3. The dough must be kneaded by hand or a mixer at slow speed. The dough cannot be formed mechanically, so no rolling pins or presses allowed. It must be formed by hand.
4. Toppings are limited to a small selection of tomatoes, fresh or canned, certified buffalo mozzarella or fior de latte, a fresh mozzarella, oregano (specifically Origanum vulgare), and fresh basil.
5. There are only two type of pizza that can be called Neapolitan pizza, the "Pizza Margherita" that has tomato sauce, mozzarella, olive oil, and fresh basil or the "Pizza Marinara" that has just marinara sauce or fresh peeled tomatoes, fresh garlic, olive oil, and oregano.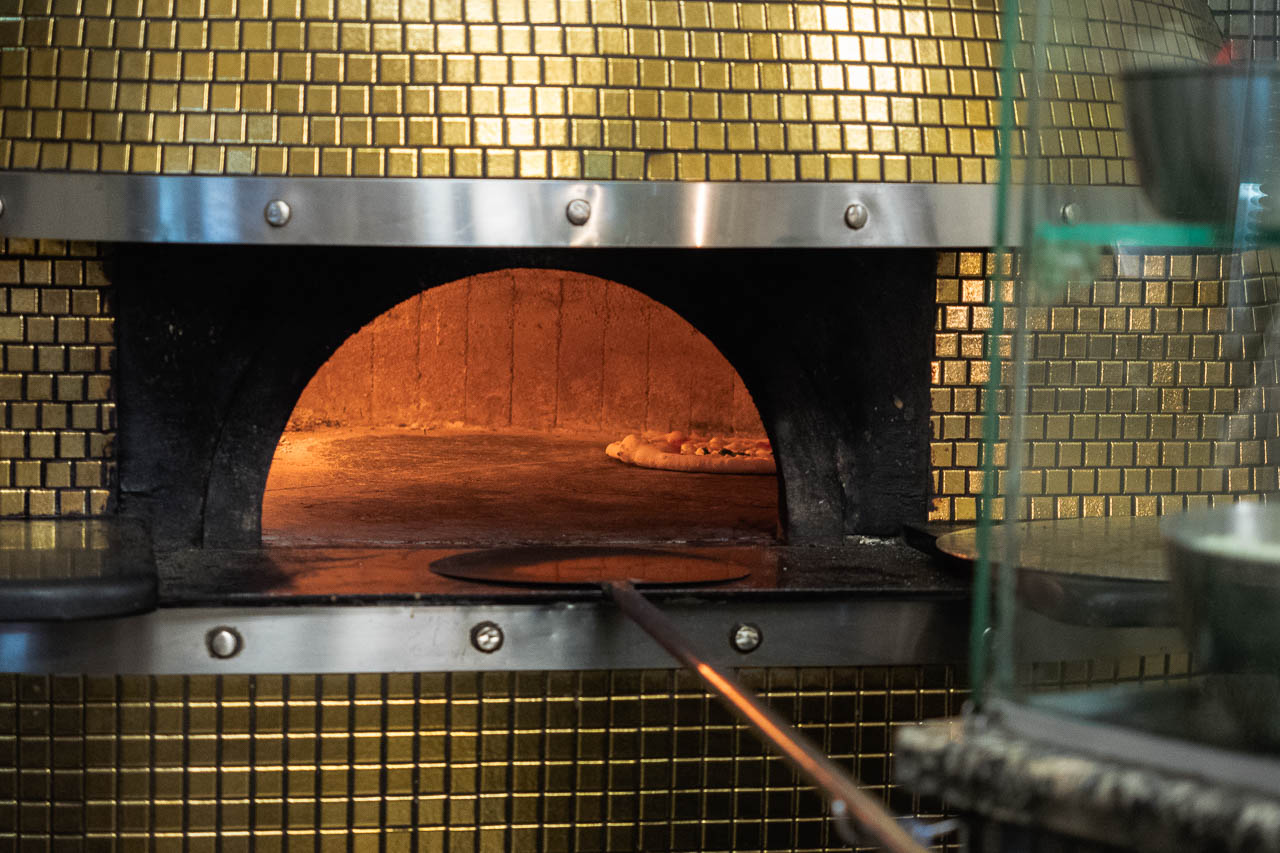 Armed with this information, Matt and I head out from Naples beautiful new train station to our first pizzeria, Da Michele. The streets of Naples are as orderly as everything else in town. If you get lost, like we did, just look for the pizzeria with the longest line and you will know that you have found Da Michele. Da Michele opened in 1870 and is one of the most famous pizzerias in the world. I asked around and discovered that the line was for people waiting for tables. We didn't need a table, we just wanted to eat pizza, so I went in and ordered "una pizza per andare" or a pizza to go. In about five minutes, I was walking out with a box of molten mozzarella, tomato sauce, and dough.
Finding a place to sit outside and eat was harder than getting the pizza. We ended up taking turns sitting on a bollard next to a curb. It was grungy, but once we opened the box, the setting didn't matter. Neapolitan pizza is unlike any other. The crust is thin and chewy and a bit salty. Under the sauce and the cheese, the center of the crust is wet, but not uncooked. The sauce tastes like summer tomatoes with just a hint of the basil. The mozzarella is also a bit salty, chewy, and perfect. Most importantly, there's not too much of it, in fact, all of the ingredients are perfectly balanced. We inhaled our first pizza.
We were eager to get to our second pizzeria and we chose Pizzeria dal Presidente. I tried to map them so we wouldn't be wandering around looking for places and could just hit one after the other. Pizzeria dal Presidente was not busy at all. We sat in the back room behind the giant pizza oven that dominates the left corner of the main room. As we looked around, we noticed that dal Presidente also had photos of the restaurant's history and famous people who had eaten there. They were most proud that President Bill Clinton had eaten there.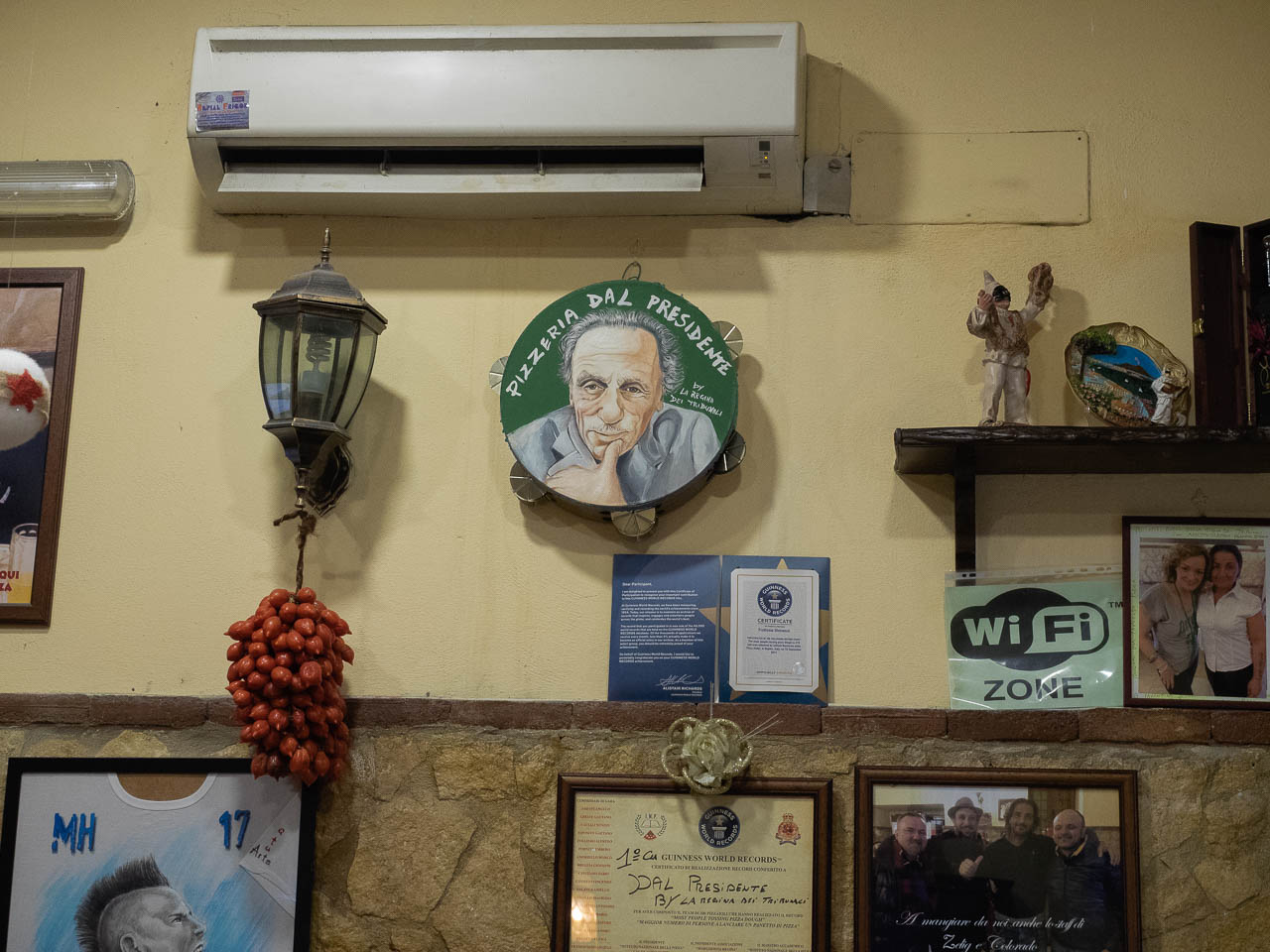 The pizza was good, but wasn't perfectly cooked. The wet center was a bit doughy. I did like the sauce better than Da Michele. Matt thought that the cheese was a bit too salty. Neither of us like the doughy crust. We like good crust. The staff were very nice though, but compared to Da Michele, this pizza was not a winner. Perhaps next time it will be better.
We decided after two pizzas that we would walk around a bit to digest. Even though we were sharing pizzas and only drinking water, Matt and I were already feeling full. Naples is a beautiful city, but not like Florence or Rome. It's more like Havana, Cuba. Everyone is out in the streets walking, visiting friends, kids are playing, laundry is hanging down, etc. It is the liveliest of the Italian cities, but it is also rough on the edges or as Matt said "it looks tired, like Stonetown in Zanzibar". We loved it and will go back when we are not there with a single purpose.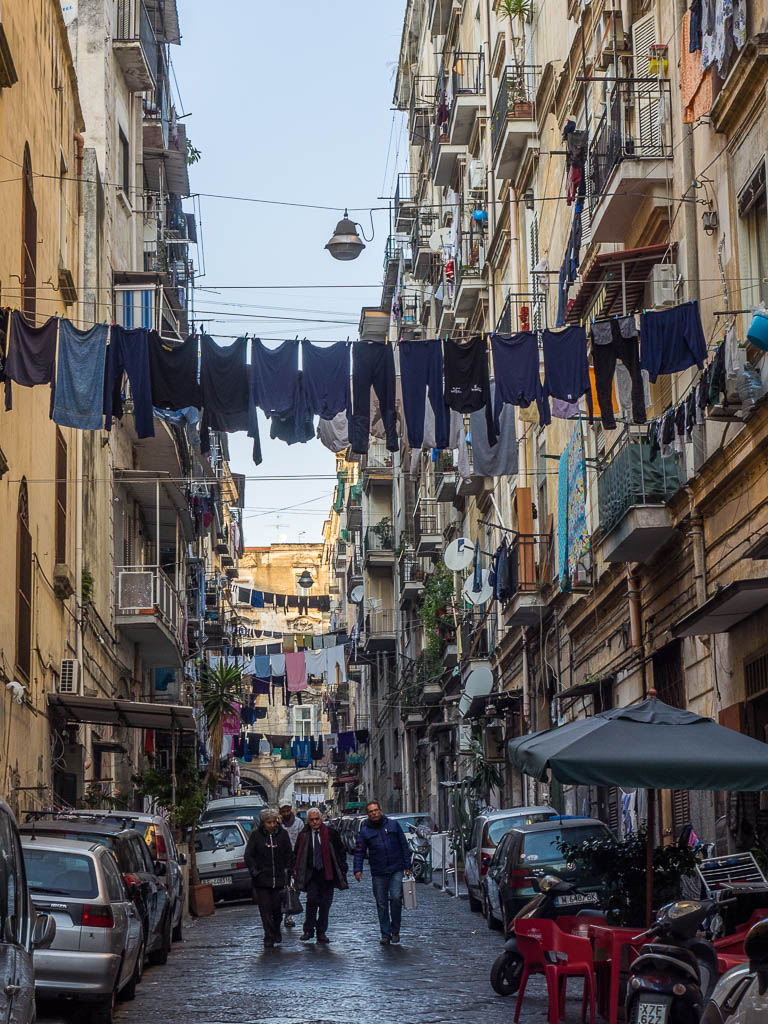 On to our third pizzeria of the day, Antica Pizzeria Port'Alba. Port'Alba is considered the world's first pizzeria. It was established in 1738 as a pizza stand selling at the local market. It became a restaurant in 1830 and has been in the same place ever since. The ovens are special in that they are lined with lava rock instead of the usual brick, though they are still wood-burning, as required. The lava rocks come from nearby Mt. Vesuvius. Antica Pizzeria Port'Alba was famous for their pizza topped with lard, sheep cheese, and basil, but now it serves pizza with all sorts of toppings, as well as the traditional Margherita and the Marinara. We chose the Margherita, but decided to add some nice salami. I ordered a glass of local red wine. Their glasses are like buckets with very generous pours.
The pizza was very good overall. It was cooked perfectly, maybe even better than Da Michele. The dough was my favorite. It was crusty and chewy, but also delicate with just the right amount of sea salt. The sauce was fantastic, but probably not as good as Da Michele's. We both liked the cheese, again there wasn't too much, but almost every bite had some, which is perfect. My favorite thing about the Port' Alba was the staff. They were fantastic and even let me in the kitchen to photograph the pizzaiolo, their pizza maker.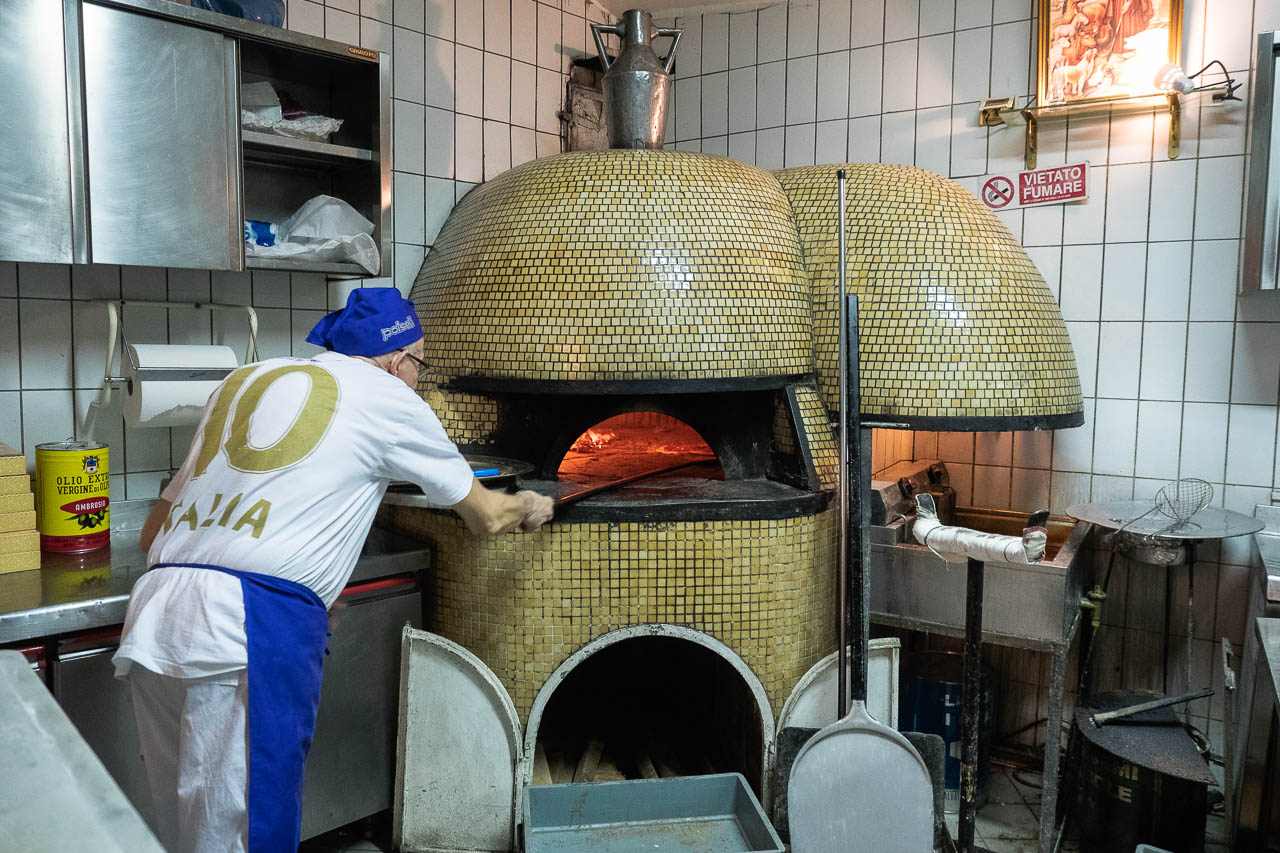 After Port'Alba, I wasn't sure if I was going to make it through another. We were both ready to roll around on the ground. But as we walked around a bit and digested, the lure of just one more pizzeria was strong and we decided to hit one more place on our way to the station. We decided on Da Matteo as it was on our way, had great reviews, and the name was perfect.
We ordered the pizza per andare again because we didn't think that we could eat the whole thing and we needed to get to the train station. Da Matteo's gorgeous copper colored oven sits in the back of the front room. As I walked closer to watch our pizza cooking, I could feel the intense heat. Remember, they cook the pizzas at 905 degrees F! It was done quickly and off we went to find a good place to eat. There really aren't any parks or benches in this area of Naples, so we decided to kneel down in a little piazza next to a giant nativity scene.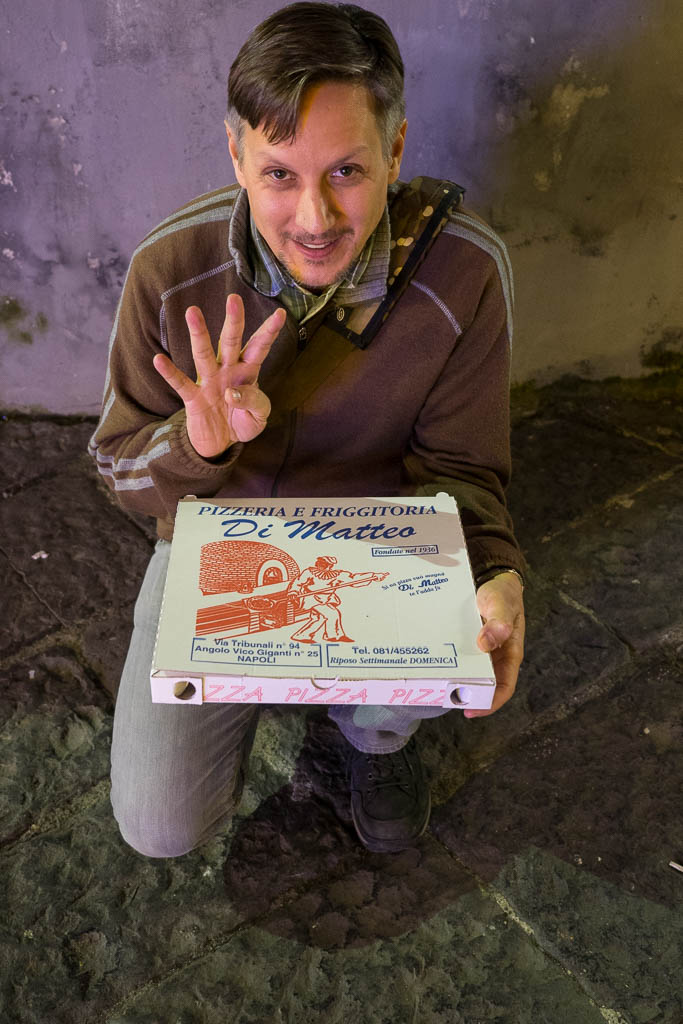 When Matt opened the box we both groaned. We wanted to eat it, but we were stuffed. With our commitment to eat four in four hours, we broke off pieces and quietly chewed in the bright lights of the life-sized Mary and Joseph in Bethlehem. Da Matteo's pizza was delicious, like the rest. At this point, we weren't sure if we could even judge anymore. This pizza was a perfect example of Neapolitan pizza. I finished my piece, thirsty from the saltiness of the cheese and crust and realized that I was done in. I couldn't eat a single bite. Matt took one for the team and finished off the pizza. I don't' know how he did it even though it was delicious.
As we jogged back to the station to catch our train, I swore that I wasn't going to live past my pizza eating gluttony. My legs felt leaden and I swear that my hands were numb. Matt reassured me that I wasn't having a pizza-induced heart attack and that I wasn't going to die. He was right, we didn't die, but it was not easy jogging back to the station with bellies stuffed beyond capacity of the world's best pizza. Oh, and we did stop on the way to buy one sfogliatella, a special Neapolitan pastry of flaky pastry stuffed with mascarpone dotted with candied citrus rind and then fried. It resembles a sea shell. On my next visit, I am going to do a taste test of the cities sfogliatella makers.
The four pizzerias we visited:
Da Michele, Via Cesare Sersale, 1
Pizzeria Dal President, Via dei Tribunali, 120
Antica Pizzeria Port'Alba, Via Port Alba 18
Di Matteo, Via dei Tribunali, 94
-Neeley (16 December 2015)
(Even with our jogging, we missed our express train back to Rome, and had to take the local back. Matt was wishing we had picked up a fifth pizza 'for the road'.)