On this trip, Matt and I have been able to visit some of the places that we have long wanted to see. For me, Brugues and Salzburg were two of those places. I have been to Austria before, but never to Salzburg. I will admit that I grew up watching The Sound of Music and as a young girl, dreamed of waltzing in the Van Trapp Family's gazebo singing "I am Sixteen Going on Seventeen". Well, I didn't do that as the house in the movie is not the house in real life. So you are spared that detail that Matt would have made into an embarrassing video. But we did see some of the sights and a hefty amount of delicious beer.
Let me start with another confession, despite having spent a week in Vienna stopping at every Christmas market we could find on the map, I was not done. Salzburg has their own market in the Altstadt (Old Town) and I was excited to get one more in before leaving Austria.
We found a great hotel between the train station and Altstadt. I found the Hotel Markus Sittikus in a Rick Steve's guidebook. It was reasonably priced for Salzburg and super comfortable. We checked in and found our way to the river and Altstadt. This is the main tourist area and where we would spend most of our time the next two days.
Altstadt was beautifully decorated for the holidays. The shop windows, the Christmas lights along the bridges crossing the Salzach River, and, of course, the beautiful Christmas market in Residenz Platz, the main square. Salzburg's Christmas Market is as picturesque as they come. Even though it was sprinkling rain, the market was busy with locals and tourists drinking glühwein, shopping, and eating at the many food stalls. We planned to grab a snack and then get dinner later, but there was so much food to sample that we ate our fill from the vendors at the market.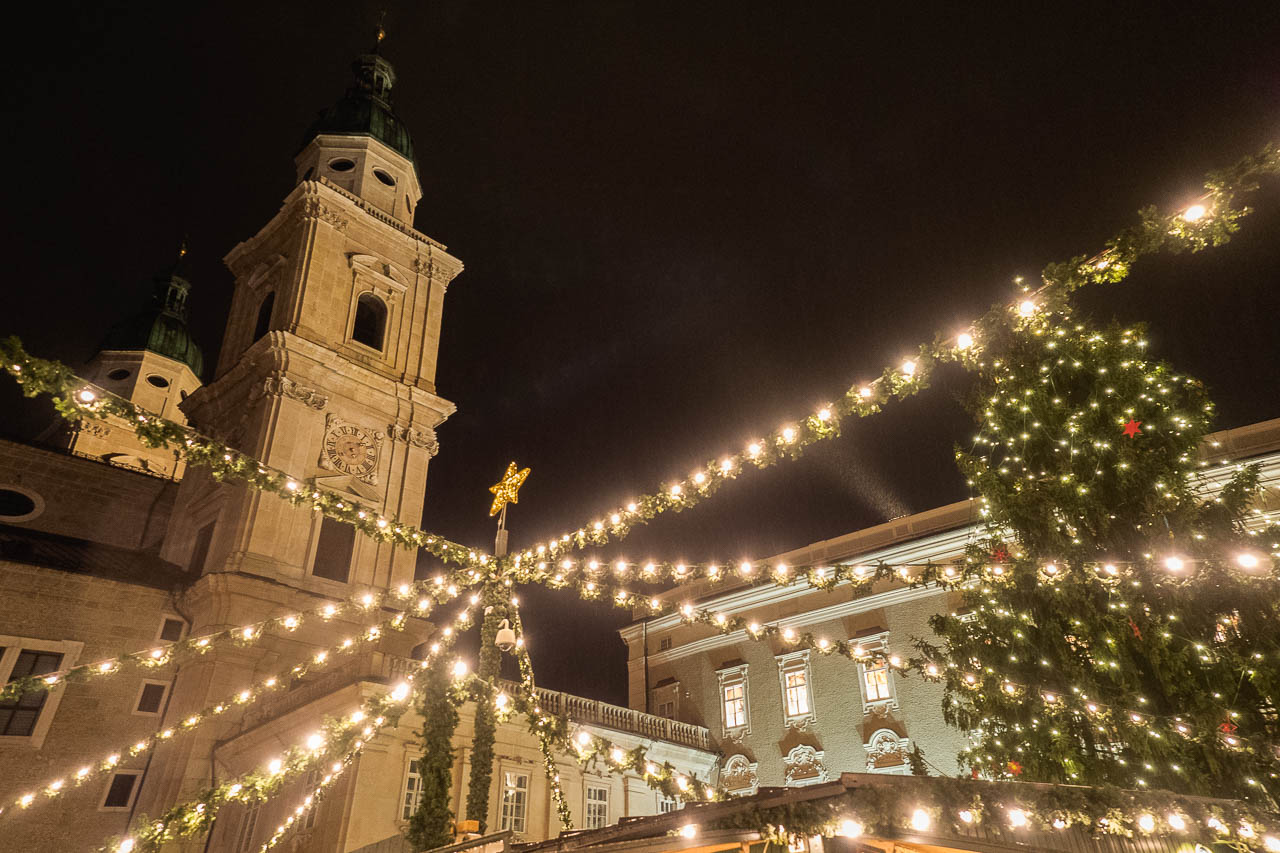 We bumped into two fellow travelers, Tom and Anna from The Adventure in You. Tom and Anna were on the train from Vienna with us. Traveling is about meeting new people and for us that includes fellow travelers as well as locals. Tom and Anna were making their way around Europe using their Eurail Pass and were stopping in Salzburg for the night. We snacked our way through the market.
The following day we got up early to explore everything we could in Salzburg. We only had one full day. On our side of the river is the Mirabell Palace and Gardens. The palace, a UNESCO world heritage site, was built in 1606 by Prince-BishopWolf Dietrich von Raitenau in 1606 as a token of his love for Salome Alt. It's a beautiful palace from the outside. My main interest was the gardens. In particular, the famous Dwarf Garden.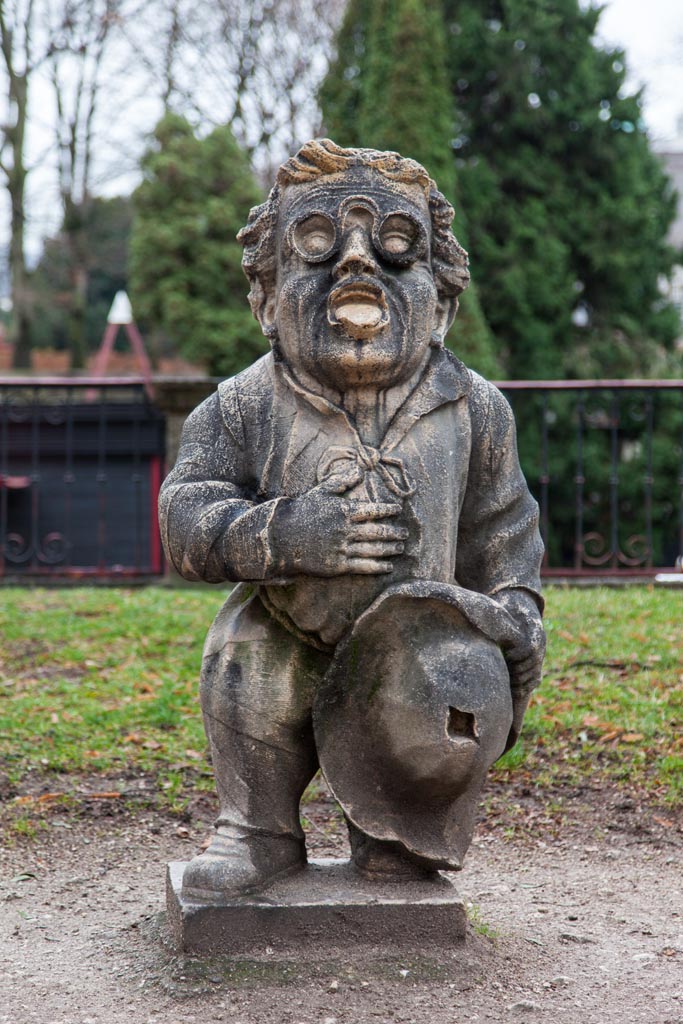 The Dwarf Garden was created in 1715 by Prince Archbishop Franz Anton Harrach. The dwarves were modeled after the dwarves who worked in the palace for the Archbishop, a few locals, and foreigners. In the 1800s, Crown Prince Ludwig thought that they were a bad omen for his wife and children and had the statues removed. They were returned to the palace grounds in 1921 when there was a resurgence of interest in restoring historical Salzburg. The statues are fun and defiantly worth visiting.
On our way to Altstadt we ran into a couple locals, Robert Krasser and friend. Robert, an architect and fellow photographer, was interested in discussing photography workshops in Salzburg. We had a lovely chat and agreed to meet up later in the evening. Leaving Robert, we walked up to tour the Hohensalzburg Castle located on the hill above Salzburg. When Matt sees a high point in a city, he wants to climb up for the view.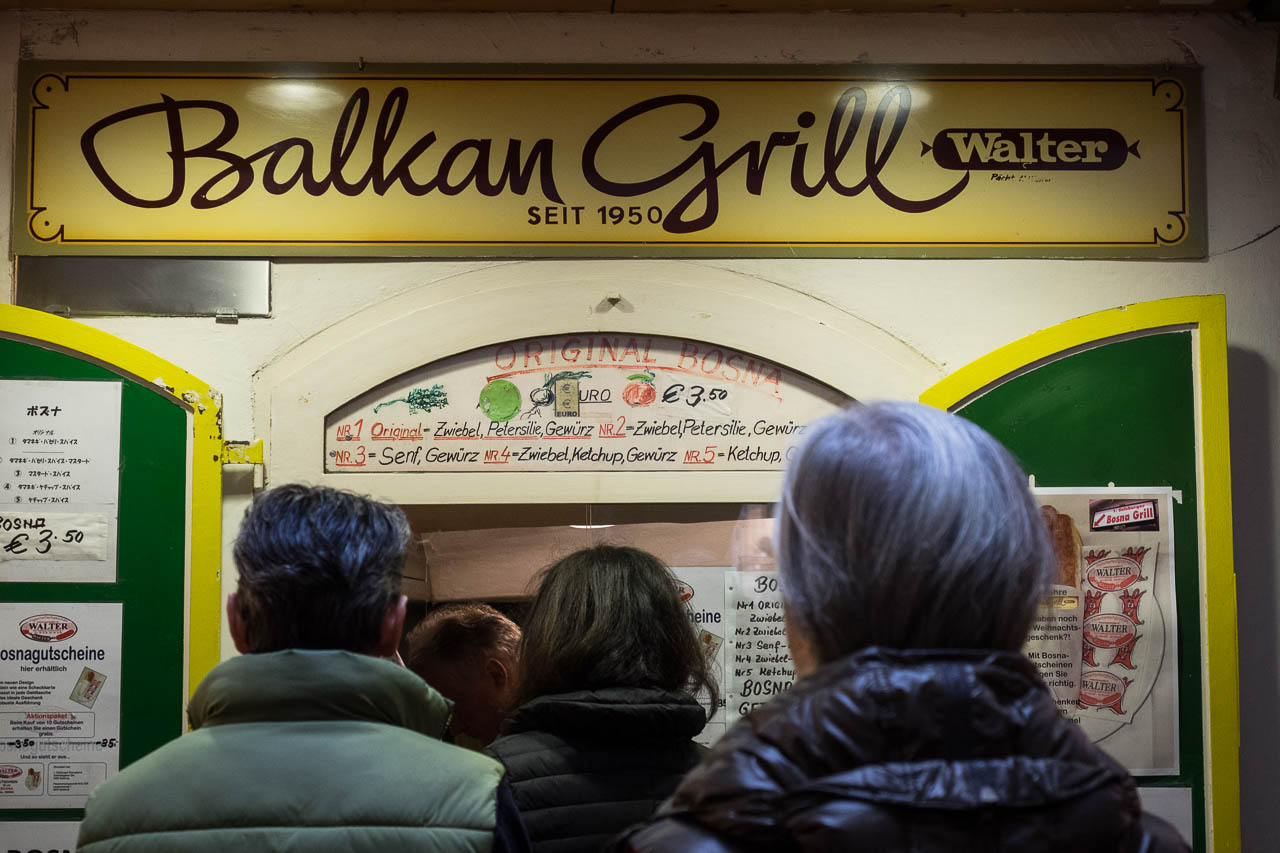 Before the climb, we needed sustenance, we stopped at the Balkan Grill for a delicious lunch of a Bosna sausage. It's an Austrian specialty originally from Bulgaria and the Balkan Grill in Salzburg is famous for having the best in Salzburg, if not all of Austria since 1950.
Bellies full, we started our ascent up the mountain to the castle, stopping for a visit of the beautiful Petersfriedhof church and cemetery. The grave markers are brightly hand-painted metal markers, some standing several feet high. The graveyard appears to be filled to capacity, with remains buried on the side of the hill and tightly packed.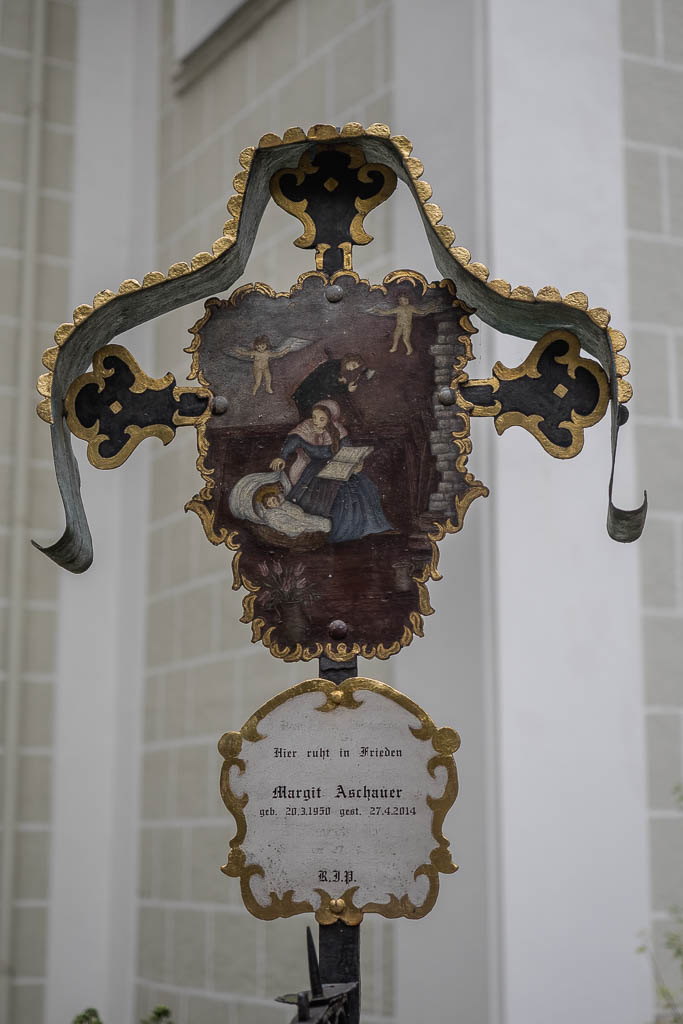 Beyond the graveyard is the entrance to the funicular up to the castle. We took the funicular because it looked like fun. If you have trouble walking up hills or just feeling lazy, this is a great way to get to the castle. It's not cheap though. The cost was about 20 Euros for the two of us. Luckily that included a return trip.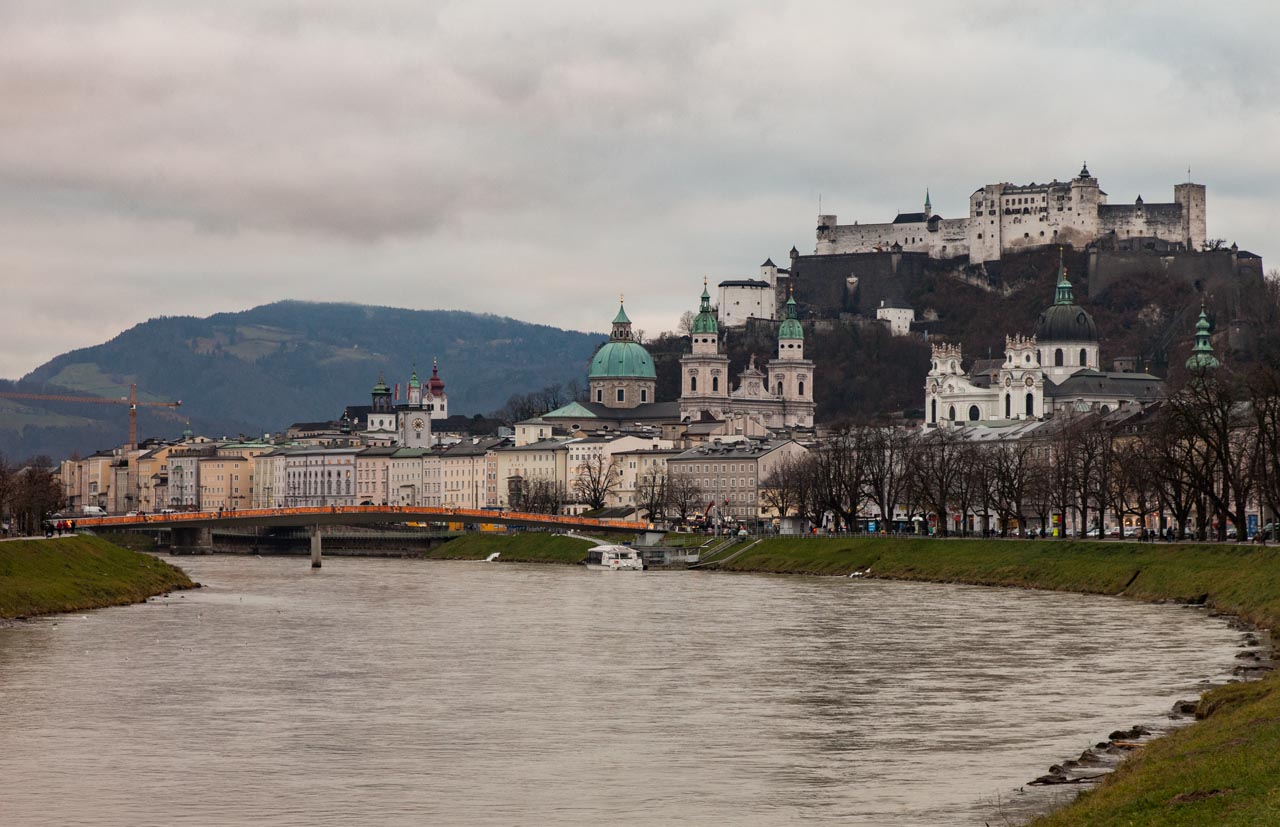 The castle itself was mostly empty. Empty of tourists, of guides, information, and really anything to see. The view was great. They had a pretty well stocked gift shop, a room with various torture devices, and a funny but dusty little marionette museum. We wandered around looking for things to see, but after an hour we made our way back to town.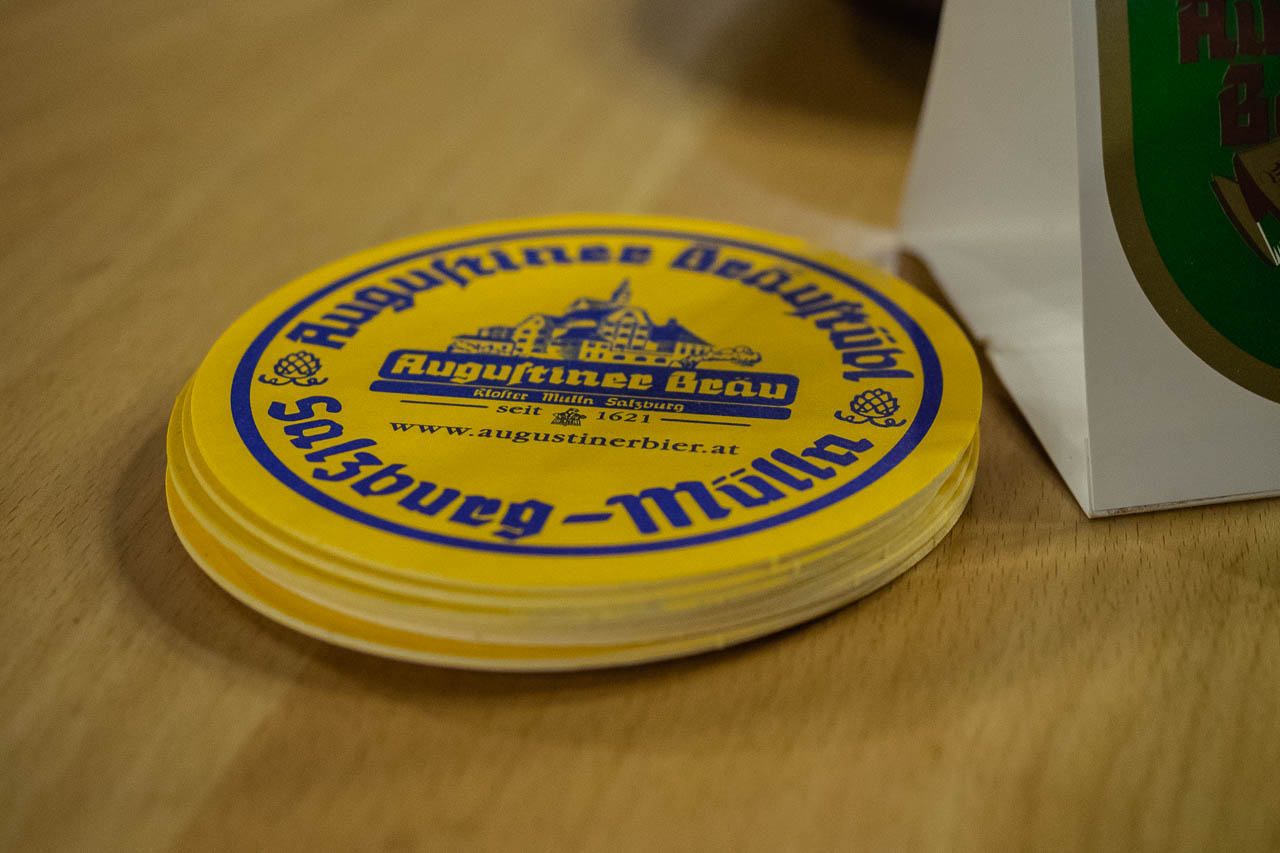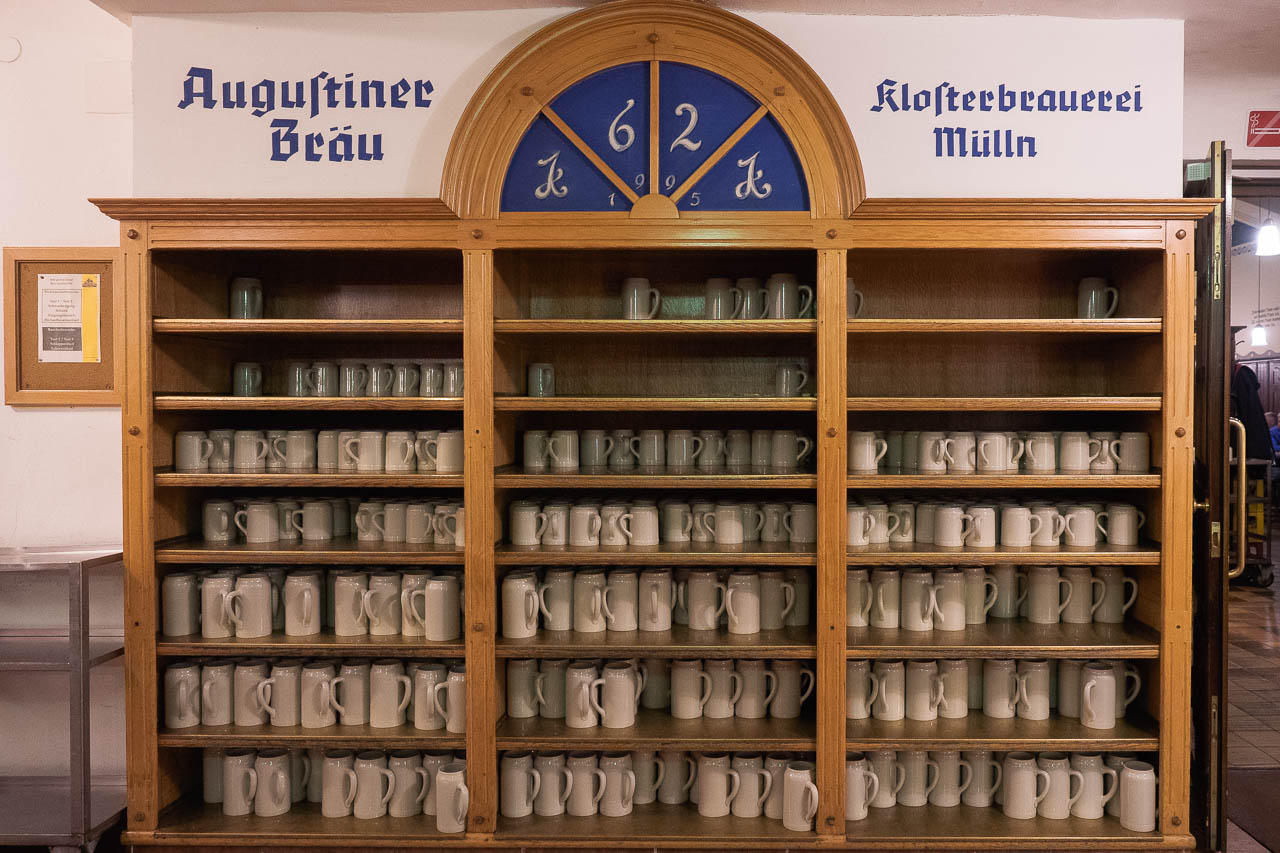 That's when we had the great idea to find good beer. We had read that the Augustinerbräu brewery was the best one to visit. So, off we went, along the river following our GPS. After walking for about 45 minutes, we found the massive brewery building in the Mülln neighborhood. What a great find! Inside were three huge rooms, a hall of food stalls, and the shelves of mugs. We watched what others were doing. We grabbed our halve liter mugs from the shelf, rinsed them in the giant sink provided, paid for our two beers at the kiosk, and handed the server our mugs. He filled them to the brim from wooden kegs. We were off to find seats. The place was hopping! We learned that many locals have standing reservations – usually weekly – at specific tables. Their names are written above the table with the day of the week and time that they have the table reserved. Once we found a free table, Matt wandered off to find a snack. He returned with a giant pretzel, some sausage, and dark bread. We could have stayed there all evening. The atmosphere is lively and the beer is delicious.
We had planned to chat with Robert some more, so our adventure was to continue, and we bid farewell to the brewery. Meeting up with Robert, he whisked us off to another brewery, Stiegl-Brauwelt. Another great find! This place is a bit fancier than the Augustinerbräu. It was decorated for Christmas and appeared to be hosting a corporate Christmas party, but there was room for us and we grabbed a table in the center. Robert ordered some delicious and incredibly filling food and beers all around. It was great to sit and chat with another photographer who has traveled quite a bit. Once we finished our beer, Robert asked if we had been to Hangar 7 yet. Matt and I shook our heads, not knowing what to expect.
Hangar-7 is so very cool. It's an airplane and transport museum displaying the personal collection of Dietrich Mateschitz, founder of Red Bull, the soft drink company. Hangar-7 has a fantastic and very chic cocktail bar (with a great selection of gins), a world-renowned restaurant called Ikarus and an event space. It is free to enter the museum,. the drinks are not, but it's really worth a visit. Mateschitz's collection is impressive. If you are in Salzburg, you really must stop up here for a drink. It was a wonderful way to end our first visit to Salzburg.
We had a long day of travel to Florence, Italy the next day. So we had to say farewell to our new friend and pack our gear. We'll be back to Salzburg and to see more of Austria. Our train ride through the Alps and down into Italy was spectacular. I never want to fly within Europe again. The train has been fantastic.
-Neeley (1-3 December 2015)